Defiant Requiem
(2012)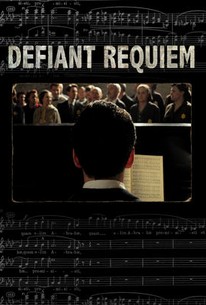 AUDIENCE SCORE
Critic Consensus: No consensus yet.
Movie Info
A memorial concert reawakens the story of an artistic uprising in the Nazi concentration camp, Terezin, where a chorus of 150 inmates confronts the Nazis face-to-face...and sings to them what they dare not say.
Audience Reviews for Defiant Requiem
½
"This room became the protective walls of something good, something meaningful, something healing, and something that showed everyone who was really listening that Raffi had put all of us, the singers and the audience, into another world. This was NOT the world of the Nazis. This was OUR world." "Defiant Requiem" is the chilling story of Raphael Schächter: a musician, Jew, prisoner at the Terezin concentration camp, and the leader of a performance of Verdi's Requiem. His statement was bold, using the Latin funeral text as a means to tell the Nazis that their own day of judgment would come. This film tells his story through a modern conductor, Murry Sidlin. This conductor has organized a concert as a tribute to the brave rebels who worked all day in the camp and rehearsed all night to make a beautiful and powerful statement against their captors. It also reveals the obstacles that Schächter had to overcome as he taught every note and piece of Latin text by rote while many of his choir members were deported to Auschwitz throughout the concert preparation. The interesting twist in this film is that the learning of the piece evolved from a rebellious statement to a necessary routine for these Jews to keep their humanity. "Defiant Requiem" is a multifaceted documentary that explores an untold piece of Holocaust lore, the dark setting of the Requiem by Verdi, and the power of music to unite a people.
Jonny Priano
I saw Defiant Requiem at the opening night of the DocuWeeks film festival at the IFC in New York City. When I read there was a Holocaust theme to this one, and that this film was on opening night, I knew there had to be something new & unique and special about this film - and is there ever! Having seen many Holocaust docs over the years (like so many of us), along comes this INCREDIBLE story that I had never heard about before, and it is told quite beautifully here. Defiant Requiem is an incredible story of the Nazi concentration camp at Terezin, wherein many talented Czech artists were imprisoned - and it specifically tells the story of one Czech composer, Raphael Schachter, who's idea it was to lead a performance of Verdi's Requiem inside the camp. And it tells the parallel story of music conductor Murry Sidlin who decades later went back to Terezin specifically to perform Requiem again, quite beautifully, this time with survivors from the camp. I don't really have the words - let me just say this story was completely new to me and had a profound impact on me, particularly the incredible interviews with the survivors. When the film was over, the whole crowd stayed still and silent all the way through the final credit, before breaking out in applause. It was such a profound experience to be educated on something completely new relating to the Holocaust, and for the subject matter to be told with such depth and compassion, but also restraint. The story was sensational enough, the filmmakers wisely chose not to be manipulative (which would have been easy in this case) - they just told you and showed you this story with honesty, clarity and genuine beauty.... This is what true documentary filmmaking should always be like. I have no idea how wide the distribution is going to be on this film - NY and LA are lined up so far, maybe other cities? Maybe TV? I have no idea, but if you come across this film SEE IT, you won't regret it.
Mark Borrelli
Defiant Requiem Quotes
There are no approved quotes yet for this movie.
Discussion Forum
Discuss Defiant Requiem on our Movie forum!