Free Willy 4: Escape From Pirate's Cove
(2009)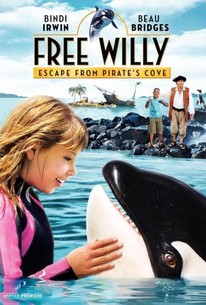 AUDIENCE SCORE
Critic Consensus: No consensus yet.
Free Willy 4: Escape From Pirate's Cove Photos
Movie Info
Bindi Irwin (daughter of late Crocodile Hunter star Steve Irwin) makes her feature film debut in this heartwarming tale of a little girl who befriends a stranded baby orca. Nature-loving Australian Kirra (Irwin) is spending the summer with her grandfather (Beau Bridges) in South Africa when she makes a remarkable discovery. Swimming in a small lagoon next to her grandfather's dilapidated ocean-side amusement park is a baby orca that seems to have lost its way. Determined to help her new friend get back to his pod, Kirra names the orca Willy and makes it her mission to reunite him with his family. Meanwhile, her grandfather's nemesis - the owner of a popular theme park - has his own plans for Willy. Should Kirra fail to get the wandering killer whale back in the ocean quickly, he'll be put on display instead of set free. But Kirra isn't about to let her new friend down, and before this trip is over she'll truly understand what it means to fight with all you've got for what you really believe in.
Critic Reviews for Free Willy 4: Escape From Pirate's Cove
All Critics (3) | Fresh (1) | Rotten (2) | DVD (3)
With any lower-budget, direct to video family film, you really don't go beyond a certain level of filmmaking quality, and this is the case with this movie.
Perhaps the feature isn't an overwhelming display of scholastic integrity, but the little ideas add up here and there, hopefully instilling younger viewers with an appreciation for animal behavior.
It's hard to beat a little girl and a killer whale in any movie.
Audience Reviews for Free Willy 4: Escape From Pirate's Cove
½
As usual, truly a loveable and enjoyable movie of a little lady that takes a trip to South Africa against her wishes to see her down and out Grandfather. Miles away from her normal terrain, she becomes friends with a "killer" whale that too is miles away and lost from his family. The two of them form an alliance that will eave a lasting memory in your mind of the importance being a part of family happiness.
Fascade Fiveoneeight
Super Reviewer
Bindi Irwin stars as a girl who's sent to live with her grandfather (Beau Bridges) after her father injures himself and is stuck in a hospital bed for a few weeks. Her grandfather owns a rundown little amusement park and when Bindi befriends a killer whale, he uses it as a feature attraction at his park. The movie is cute and harmless and actually better than the other Free Willy sequels. The film has a lot of the same storyline as the first movie. While I find it silly that a different person just happened to give the whale the same name that the whale had in the previous films. The movie is good for the whole family though. I also think Bindi could have a career in movies, since she's actually a better actor than a lot of the young stars these days.
Free Willy 4: Escape From Pirate's Cove Quotes
There are no approved quotes yet for this movie.