From the Terrace
(1960)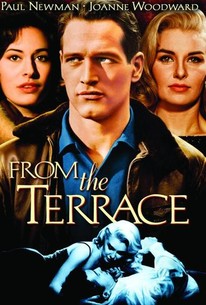 Movie Info
This adaptation of John O'Hara's From the Terrace stars Paul Newman as Alfred Eaton, an unhappily married financial adviser, while his real-life wife, Joanne Woodward, portrays Mary St. John, his promiscuous screen spouse. Mary's libertine behavior is a by-product of her husband's inability to express love and affection, a trait he has inherited from his cold-blooded father. Mark Robson directs and Myrna Loy heads up a large supporting cast as Newman's alcoholic mother. ~ Hal Erickson, Rovi
Critic Reviews for From the Terrace
Audience Reviews for From the Terrace
½
Overwrought Melodrama, But Great Score If you love soap opera, you will find a lot to like here. But, to me, soap opera mainly means overcooked melodrama. To make it work means deploying a cast of carefully-crafted characters. But, this film has mostly standard-order characters. There are lots of very good actors here. The director is the highly skilled Mark Robson. And, none other than Ernest Lehman is the screenwriter. But, if all that talent is in service to routine daytime-drama-level stuff, you can only go so far with it. The actor, and character, who shines in this is Ina Balin, who had a pretty quiet career for the most part, but is unforgettable in this film. The other highlight is Elmer Bernstein, whose score is much more beautiful than this movie deserves!
John Miller
½
You're not big enough to walk in my shadow and you never will be. David 'Alfred' Eaton returns home from the military to discover that his mom is an alcoholic and his father, who is a successful businessman, has driven her into the arms of another by his ambitions. Alfred sweeps in, beats up his mom's lover, and swears to never become like his father. To prove himself, he sets a goal to make $5 million by 40 and heads for New York with his new sweet heart. They marry, he gets accepted into a firm, and he starts his rise to power; the problem, to accomplish his goal, he may become a little more like his father than he anticipated. "I needed love wherever I could find it." "Love? You're a pig." Mark Robson, director of Valley of the Dolls, Earthquake, Von Ryan's Express, Peyton Place, Trial, Hell Below Zero, The Ghost Ship (1943), Bedlam, and Isle of the Dead, delivers From the Terrace. The storyline for this picture is magnificent and reminded me of A Long Hot Summer. The characters are very dynamic and the story unfolds perfectly. The acting is perfect and the cast includes Paul Newman, Joanne Woodward, Patrick O'Neal, Myrna Loy, Leon Ames, and Barbara Eden. "Why don't you leave before I pull you out of that cab and bust your nose for you?" I grabbed this movie off Netflix because it stars one of my all time favorites, Paul Newman. The main character was perfect for his demeanor and the script was very well written. The dynamic between Woodward and Newman was perfect and the overall execution of the film was better than I anticipated. I strongly recommend seeing this all time classic. "You can get more flies with molasses than you can with vinegar." Grade: A-
Kevin Robbins
Stick with "The Young Philadelphians"
Sean Gillespie
Super Reviewer
From the Terrace Quotes
There are no approved quotes yet for this movie.
Discussion Forum
Discuss From the Terrace on our Movie forum!