Going Down In La-la Land
(2012)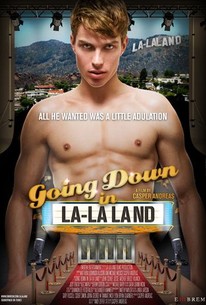 Going Down In La-la Land Videos
Going Down In La-la Land Photos
Movie Info
Young, handsome, and ambitious, Adam arrives from New York with dreams of making it big in L.A. He moves in with his zany best friend Candy who, between auditions, spends her time at the gym, shopping, or looking for a wealthy man. Adam gets off to a rocky start, complete with parking tickets and an insufferable job answering phones. A new job in production looks promising, but soon Adam finds himself dealing with down-and-out directors, washed up starlets, and meth addicts, as he starts to loose himself in a seamy underworld of gay porn and prostitution. -- (C) Official Site
Critic Reviews for Going Down In La-la Land
Audience Reviews for Going Down In La-la Land
½
It's...familiar plotting and by-the-numbers characterization that sinks this earnest, gay-contoured take on the evergreen making-it-big melodrama.
Lee Mayo
½
Going Down in La-La Land is a charming gay romance flick that dips its toe in the waters of cliche without reeking of it. The story is that of Adam, a very sexy young gay man who has moved to LA from New York City. He moves in with his best friend Candy and begins to pursue a day job and an acting career. He quickly finds the acting world not very permitting, and the job world not much better. He eventually lands an atrocious job, which he promptly quits, before being hit on by a member of his gym who offers him a job opportunity. The job is an office manager position - for a gay porn company. His friend who introduced him to the job, Nick, is one of the photographers for the company, and Adam and Nick take a liking to one another, eventually beginning a relationship. The porn company's owner and Nick urge Adam to do porn himself, and a string of expensive parking tickets forces Adam's hand. He does a photo shoot, then a film, and then agrees to let the porn company owner pimp him out to closeted celebrities in order to earn the big bucks. One of these celebrities is the very closeted star of a family-oriented sitcom beloved across America, and he and Adam hit it off. About this time, Nick's drug problem comes to light, dissolving his relationship with Adam. Adam pursues a relationship with sitcom star John, but when someone outs John, their relationship finds itself on the rocks as their lives crumble around them. As I said, Going Down has some cliches, many of the romcom variety, as well as a few familiar beats from other gay films. However, Going Down is ably acted, with Ludwinski's Adam only missing a few moments here and there, and Medico's John being particularly charming. The main character is likable, the plot flows relatively smoothly and logistically from one moment to the next, and the overall story is worth watching, if not appealing to all audiences. The film is a lot less about sex than its "young actor tempted to the porn industry" premise would suggest, and that's not a bad thing, if not a little disappointing. However, there's plenty of moments of eye candy for the gay men and straight women in the audience, and the larger story of the struggle for success and love versus public image is more than enough to reward someone looking for a good film to watch. Despite a clunky name and a premise that doesn't promise much but hot sex scenes, Going Down In La-La Land manages to present a big-hearted story and to put a smile on your face.
blake dorris
Grittier than the last two films from Casper, he is perhaps the most compelling part of the film in the role of a strung-out addict. Casper's transition from charming to psycho is completely believable.
Guy Swenson
Going Down In La-la Land Quotes
There are no approved quotes yet for this movie.
Discussion Forum
Discuss Going Down In La-la Land on our Movie forum!