Gray Matter
(2004)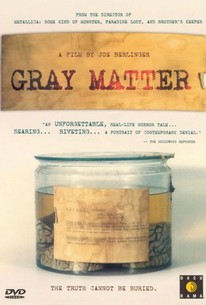 AUDIENCE SCORE
Critic Consensus: No consensus yet.
Gray Matter Videos
Gray Matter Photos
Movie Info
Follow acclaimed documentarian Joe Berlinger (Paradise Lost, Metallica: Some Kind of Monster) as he explores one of the darkest wartime atrocities in recorded history in this affecting look at the children who suffered unspeakable horrors in the brutal first act of the Holocaust. In the Spring of 2002, Berlinger learned that the preserved brains of over 700 handicapped children who had been murdered as part of a Nazi eugenics program were finally set to be laid to rest in Vienna. Traveling to Austria to witness the historical event and put the atrocity into an historical perspective, Berlinger soon came in contact with Dr. Heinrich Gross -- the very man allegedly responsible for the brutal experiments. In addition to a conversation with the man nicknamed "The Austrian Dr. Mengele," Berlinger also comes into contact with survivors of the "euthanasia" clinic while asking the question of why it has taken so long to bury these brains, and delving into the moral implications of utilizing scientific knowledge gleaned through such nefarious means.
Rating:
NR
Genre:
,
Directed By:
Written By:
In Theaters:
On DVD:
Runtime:
Studio:
Critic Reviews for Gray Matter
All Critics (2) | Fresh (2) | Rotten (0)
A riveting documentary...
ably explores the determined denial that allows a bureaucratic government to thrive at the expense of its citizens

Audience Reviews for Gray Matter
This work gets my %100 because it affected real change: A funeral procession and burial, enacted in the very location wherein those crimes were inflicted upon those poor, poor children - abused and tortured - the victims of the evil and perverted nazi regime. Extricating the theretofore static and ignored past. Very powerful.
Geoffrey Koury
½
Wow, this is one of the many stories from the Nazi era that seem to be untold. The fact that they kept these brains in jars for so long is hard to believe. And the torture that these kids had to go through with until they finally died, just for what they thought was science is just awful. If you want to hear a story from the Nazi era, I would recommend this documentary. Its only about an hour long so I think its well worth it.
Andrew James
As I've said before, it frustrates me to no end that people aren't better educated about the Holocaust. I have never said that we shouldn't remember the six million Jews who died. I [i]would[/i] never say that, because I'm neither callous nor an idiot. What I'm saying is that people should know that it wasn't just Jews. I admit that it's personal for me--I had family in that area, and they're probably dead now. Well, they probably would be anyway, but you know. But forced sterilization began in 1934, and the wholesale killing of the mentally and physically handicapped began in 1939. More than 200,000 mentally ill people are estimated to have been killed, with at least that many physicall disabled people sharing their fate--and possibly as many as twice that. On 28 April, 2002, the brains of some 700 children euthanized at Am Spiegelgrund, an institution in Vienna, were finally buried. The children were killed during World War II. The doctor responsible for the program, Dr. Heinrich Gross, had been writing papers based on their preserved tissue since not long after the war. Finally, the Austrian government allowed the burial of what was left of those 700 children--the film never makes clear what happened to their bodies, though I have some ideas. American filmmaker Joe Berlinger was one of the journalists who went to observe. While he was in Austria, he decided to attempt to find and interview Dr. Gross. Someone in the movie observes that the Austrians have always claimed to be the victims of Nazism, but there was a fair amount of collaboration. Certainly Dr. Gross seemed to have had no problem going along with the sterilization program. He is proven to have killed nine children himself; in his trial just after the war, he was released on a technicality. In his trial just a few years ago (he died in 2005), he was pretty much declared mentally incompetent himself, which does have a certain amount of grim humour to it. The remaining survivors filed a class action lawsuit against him, but I'm unable to find any details on the outcome. It's possible, even probable, that he died before there was one, all things considered. I admire Joe Berlinger's determination, here. For one thing, he did his level best to interview people himself--in German, which he clearly doesn't speak. In fact, he doesn't seem to have brought an interpreter along with him. He certainly knows how to say "Do you know if Dr. Gross lives here?" He's fortunate in that a lot of the people he encounters speak English, but I admire him for making the attempt--and making a film that most Americans simply don't care about. Probably most people worldwide, I suspect. I mean, even I who study gentiles in the Holocaust on a regular basis had never heard of Am Spiegelgrund. I wonder what kind of follow-up Berlinger could make now that Gross is dead. The one person with whom he managed an extensive interview, a doctor who worked in the "Brain Room," was fired. Many other people said they would only talk to him when Gross was dead, of those who said they'd talk to him at all. This documentary is only an hour long, but it raises a lot of questions and makes a lot of points. Why was Dr. Gross able to get away with his crimes? There was enough evidence to put him away, and certainly the specimens should not have been available for him to study for fifty years. Why was he allowed to present medical evidence at so many trials that it would have been impossible for him to have properly examined all the patients? Why, in fact, was his medical license not taken away in the first place? It was only because he was captured by the Soviets that he avoided the Nuremberg trials; I wish, and I'm not alone here, that things had been different.
Edith Nelson
Discussion Forum
Discuss Gray Matter on our Movie forum!
News & Features