Guncrazy
(1992)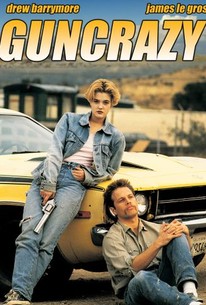 Movie Info
Not so much a remake of Joseph H. Lewis's 1949 film noir classic as a variation on its themes, Guncrazy stars Drew Barrymore as Anita, a teenage girl who was born in a trailer park on the wrong side of the tracks and has been fighting a losing battle with respectability ever since. Anita was abused sexually by her mother's boyfriend (played by onetime Warhol "superstar" Joe Dallesandro), is the subject of lewd advances by the school bullies, and is looked on as a slut and a loser by her peers. When Anita has to find a pen pal for a class assignment, she ends up corresponding with a prisoner named Howard (James LeGros), who's serving time for manslaughter. Howard is one of the first people to address Anita with tenderness and respect, so when he gets parole, Howard moves in with her. Howard's obsessive love of guns, however, once again leads to violence, and the couple hits the road hoping to escape their fates. The debut film from director Tamra Davis, Guncrazy was originally shown on cable television, but received enough critical acclaim to merit a later theatrical release.
Critic Reviews for Guncrazy
Audience Reviews for Guncrazy
½
I loved this movie when I saw it on TV a few years ago, but then I saw similar movies that were way better than this one. Well, at least this one has an awesome performance from Drew Barrymore. It's like a teenage version of a Bonnie and Clyde type story. I'd like to watch it again sometime.
½
This little Bonnie and Clyde imitation is rather cheap, tawdry, and nearly unpredictable. It needed a lot of improving, and more character to the story.
Dean McKenna
Super Reviewer
Anita is a high-school girl who frequently allows random boys and men to have sex with her, and is frequently raped by her absentee mother's boyfriend. As part of a school assignment Anita takes up correspondence with a lonely young prison inmate, whose letters stir up dormant desires for violence and guns. After buying herself a firearm, Anita convinces her mother's boyfriend to teach her how to use it, and, after he rapes her again, shoots him to death and hides the body. She then sets about getting her new "boyfriend" out of jail and to her, where she slowly drags him with her on her downward spiral of sex, violence, and murder for the sake of murder.
Danielle S
Guncrazy Quotes
There are no approved quotes yet for this movie.
Discussion Forum
Discuss Guncrazy on our Movie forum!