Hangman's Curse
(2003)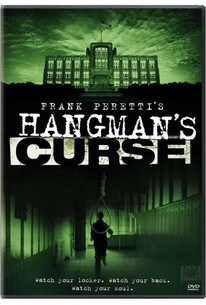 Movie Info
A family of paranormalists investigates the strange goings-on at a high school still reeling over a student's very public suicide in this teen thriller. Hangman's Curse concerns the further exploits of the Veritas Group, a loose collective of people committed to researching supernatural mysteries. The group's members include the Springfield family -- parents Nate (David Keith) and Sarah (Mel Harris) and Elisha (Leighton Meester) and Elijah (Douglas Smith) -- whose current assignment takes them to the aforementioned high school. There, they find that Abel, the teen who took his life, had been long ostracized by various cliques in the school -- jocks, popular kids, and the like -- all of whom are falling prey to mysterious ailments. As Nate and Sarah watch from the sidelines, it's up to Elisha and Elijah to pose as students to get inside the mystery. Hangman's Curse was based on the novel by Christian author Frank Peretti.
Rating:
PG-13 (for elements of violence/terror and for brief drug material)
Genre:
, ,
Directed By:
Written By:
In Theaters:
On DVD:
Runtime:
Studio:
Critic Reviews for Hangman's Curse
Audience Reviews for Hangman's Curse
I'm SUPER afraid of spiders!!! In that aspect...this movie scared the crap out of me. Other than that...it was pretty dumb. I watched it years ago.
Jasmine Dick
I liked the concept of this movie: a family that investigates supernatural events. The execution of the idea led much to be desired. Too much of the movie was cliched and unbelievable. The family all arriving at the school at the same time, not trying to hide that they are all connected, yet still being able to get kids to trust them... it all combined to stretch the credibility to the limits. The Christian themes were very welcome, however as a result, you just knew there would be a resolution that was not supernatural. The acting is merely okay. Watch it on a slow night and keep your expectations on the lower end.
Don Schick
Originally written and published in Feb 14, 2009 Just when a curse is haunting the school, things turn for the worse when a movie is under the title Hangman's Curse. Sleaze Boy here and going to curse this film hoping it's never watched ever again. Foreword It has been a while since I reviewed this junk film, but I opted to give it another shot due to a dissatisfying result. I, however, gave two minutes so I can see the trailer to remember. The feelings came back reeling with the same opinion as before. I put myself to this crap, so I am going to avoid it. I will update if I unfortunately come across this. The original review did not have a lot of details, so this is upgraded and everything is nearly the same. I am integrating with some of the thoughts I originally wrote and new thoughts along with any I left out. I wrote the original in a rush. Update & Trailer I saw the theatrical trailer and I like the setting and background, but overall it sucked. It was crap even by horror cheapie standards. I got more thrills watching awful Canadian slasher film like The Burning, Prom Night, and Happy Birthday to Me. Preview What was supposed to be good movie, and it was going great, ended up in flame with a disastrous ending and cheesy afterschool special talk. I mean it is like setting up dinner with a lot of nice food and have pleasant time eating while having a pleasant conversation that raises a couple issues. Suddenly, you find out it's all a scam and respond with a tantrum and destroy everything around you hoping the audience runaway in terror. Hence, you ruined Thanksgiving. That's how this movie works. The first part was going great until halfway through the movie things go bad. Then in an unwisely move, the writer & director put a vile and hateful ending that will make you want to be with Mushroomhead fans. You and the fans will not only boo the movie, but chuck batteries at the screen and anyone who tries to intervene. Plot Hangman's Curse opens up with a kid looking down the noose shortly before jumping. The school has gotten two new kids whose parents are detectives or crime fighters. I can't remember their job, but it was something with law enforcement. The kids arrive just in time when students have been falling ill and been dying for a mysterious reason. No one knows what it is though the "somber" kids are gleeful when a kid from the football team dies. Okay, I see at this point the film will separate the students in high school culture based on what a person wears. Thus, it allows the film have the struggle between the "jocks" and the "gloom" kids. I quickly identify it will have an anti-bullying message and theme too. I had no problem at the time, but have grown tired of this theme ever since. Anyways, the film is okay as we get to know the students from the school, but it distinctly concentrates on the "gloom" and "jocks". We know about their personalities, fears, beliefs, and struggles, but we know everybody in the school fears about a curse that has befallen on the school and the jocks. Elisha and Elijah decide to go Nancy Drew and investigate, uh huh. The movie is fine by then although I can't help notice it has taken a turn to ridicule. Elisha starts uncovering clues that eventually uncovers the truth about what's going on and the legend behind school. Right and even worse, the rest of the film turns into an implausible and vile resolution that destroyed the movie with a terrible climax, revelation, and ending. It strives away from a coherent logical film with material ripped from Arachnophobia. It does not end there as we are put through a dreadful ending that's a big bowl and melted molded cheese, yuck. I am sure there is an important message, but no one will notice it when it is covered in crap. This has one worst ending ever for its bad after-school special ending. Review I notice the film try to relax the audience with comic relief from a goofy-genius. His character was average although I cannot remember if the acting. I am guessing it is okay since I wrote it, but I might tear part and pan the acting if I see it again. There is nothing much to report as there were no standouts or great performances. I do remember there was a girl in distress throughout the film. She was a gloom kid although my memory is cut short from there. There are a lot of idiotic moments and personalities which has a scene demonstrating this. One will remain unnamed person tries to solve the curse with stupidity and without a moment of thinking. Are students really that stupid? The music... I don't remember the music, but in there were a few suspenseful scenes. However, it was a song that was played in the last scene of the climax that I remember. The song was as bad and crap-tastic as the film. Ha, ha. The special effects were okay though a lot of CGI spiders pop out and do not even look real or remotely frightening. Huge logical error, the wolf spiders breed with brown recluse spider creating tarantulas. It does not end there when one of the CGI tarantulas jump. I am guessing someone opposed the idea of taking biology. I write that because it is used in the ill convincing flick with a moronic plot. As for the director and writers of the film, they put their biases to the test with the stereotyping that discredits any build up for a strong message. It allows us to observe a cheesy solution that plays similar to those anti-marijuana commercials. Its meaning is about bullying although it gets lost with the classification of stereotype. It is not helpful and will leave audiences confused. Nothing wrong with embedding meaning to it, but if they're going to do that, they have to have a much stronger and sharper script. It is especially important when you have something to say when it comes about bullying. The neither writer nor director made an attempt to express about their feelings to it. It is a shame especially when tragedies (as of today) have occurred with people taking their own life. Looking at the Internet, the term is known as bullycide where a person commits suicide over the results of bullying. This flick could have been on top of that, but fails miserably. From what I have heard, the show Glee (I don't watch it) has done a great job with the issue and discussing it. It does one brief mention, but leaves it behind and has the gloomy kids re-modified to be "approval". Also worth mentioning, the mastermind is discovered at the end of the film and comes off as a huge moron rather than vile, but sympathetic villain. Final Thought I'll implore you to skip this movie and go check out Hangman's Daughter*, a better film. As for the films with curse in its title, I would say Halloween- The Curse of Michael Myers (C-) is a lot better. The elements are very different, but they both have hangman as a title. I have films with bullying theme that are better than this crap: Carrie* Korn's music video "Thoughtless" and even the ridiculous Benchwarmers (C) and Dilbrit Taylor (C). By the way, this movie was a 00% on rottentomatoes.com. Little Indian, Big City and Howard the Duck scored a high percentage and they are considered as one of the worst movies of all time. Oh, and Carnosaur as well. *I have seen these films, but I need to re-watch them in order to give it a grade. Special note: I don't why, but after revisiting Hangman's Curse I want to watch a film called Class of 1984. Is it recommendable?
Sleez Boy
Hangman's Curse Quotes
There are no approved quotes yet for this movie.