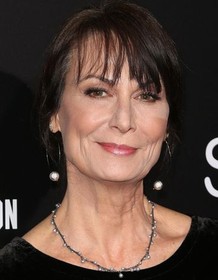 Mel Harris
Highest Rated: 78% King of Knives (2020)
Lowest Rated: Not Available
Birthday: Jul 12, 1956
Birthplace: Bethlehem, Pennsylvania, USA
A dark, striking leading lady of TV, Mel Harris is a former model who, after a few false starts in feature films ("Wanted: Dead or Alive" 1986, "Cameron's Closet" 1988) and TV ("Harry's Hong Kong" 1987), lent an understated sincerity and authority to the role of Hope, a woman attempting to juggle marriage, children and a career, in ABC's acclaimed, not-for-yuppies-only serial "thirtysomething." Harris tried a change of pace with her next series, the sitcom "Something So Right" (NBC, 1996-97; ABC, 1997-1998), in which she played a thrice-married woman coping with her new husband and their respective children.
Photos
Mel Harris at arrivals for SHUT EYE Series Premiere on Hulu, Arclight Hollywood, Los Angeles, CA December 1, 2016. Photo By: Priscilla Grant/Everett Collection
THE PAGEMASTER, Mel Harris, Macaulay Culkin, Ed Begley, Jr., 1994. © 20th Century Fox Film Corp..
Law & Order: Special Victims Unit, Raul Esparza (L), Mel Harris (R), 'Rapist Anonymous', Season 15, Ep. #9, 11/20/2013, ©NBC
DYNAMITE, (aka FAMILY UNDER SIEGE), Michelle Jackson, Mel Harris, Derek Hamilton, 2002. ©PorchLight Entertainment
K-9, Mel Harris, Jim Belushi, 1989 © Unversal Pictures/
DYNAMITE, (aka FAMILY UNDER SIEGE), Cameron Bowen, Mel Harris, Michelle Jackson, 2002. ©PorchLight Entertainment
DYNAMITE, (aka FAMILY UNDER SIEGE), Mel Harris, 2002. ©PorchLight Entertainment
SUTURE, Mel Harris, Dennis Haysbert, 1993, (c)Samuel Goldwyn Films
SUTURE, Mel Harris, 1993, (c) Samuel Goldwyn