Suture
(1993)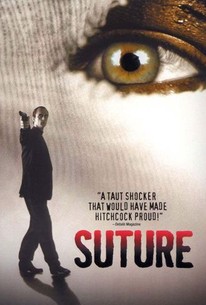 Movie Info
Shot in black-and-white, this neo-noir begins at its end, by asking the question: how is it we come to know who we are? Involving an unusual identity play, the film goes about answering its opening question through a fascinating meditation on race. When Vincent (played by white actor Michael Harris) reunites with his estranged and unknown half-brother Clay (played by black actor Dennis Haysbert), the film quickly establishes an interior logic whereby the two men appear identical within the boundaries of the film. Further complicating matters, when Vincent's botched attempt to murder Clay and pass off the body as his own leaves Clay with amnesia and in need of reconstructive plastic surgery, Clay emerges and assumes the identity of Vincent. Having his African-American lead join Clay's white, upwardly mobile world, director David Siegel plays on stereotypes with great success, calling into question not simply how we come to know who we are but how we come to know what we see.
Rating:
R
Genre:
Directed By:
Written By:
In Theaters:
On DVD:
Runtime:
Studio:
Hallmark Entertainment
Critic Reviews for Suture
Audience Reviews for Suture
Stylish film that never manages to go anywhere very interesting with all of its visual ideas.. This black and white puzzler tries to be clever about a host of issues (personal identity, memory, racial bias) with only limited success.
Lee Mayo
A story of murder, amnesia, dreams, and mistaken identity well crafted, along with the stylish black and white cinematography. However, for this film to make the most sense, it would help if you pay no attention to these visuals, since some things may not make any sense. What could've played as a wonderful homage to Alfred Hitchcock thrillers instead turns out a film school graduate effort in cinematography. The plot is simple, but the actors and narrative are flawed. The film is sort of like a Boston album; technically it's great, but the music isn't very interesting.
El Hombre Invisible
Super Reviewer
½
The door latch makes a clicking sound as it is opened. A man sits bold upright in bed. There is a stranger in the house. Shots ring out as he grabs a shotgun and hides himself in the shower. The black and white cinematography makes the scene feel poignant. The instant intrigue is undeniable and I find myself caught up in a film in which the only highlight is the intro. The film initially feels both surreal and existentialistic. Too late I realize that I have allowed the opening scene to pique my interest in a film which picking up speed as it heads towards its inevitable train wreck of and ending. Scott McGehee and David Siegel's [u]Suture[/u] (1993) is an attempt to do an original take on the idea of an amnesia driven thriller. Although the film does introduce a single unique element, it fails to maintain its initial energy and ends up failing miserably in both the thriller and psychological genre's. This film deals with the concept of a mistaken identity, which is ironically created through a series of events set in place by one brother for the purpose of killing the other. One of the most attention grabbing elements of this film is the stark contrasts, which are largely created by the black and white filming. The contrast in the film is made even starker through the use of an African American as the lead in a film in which he and an Asian Psychologist are the only non-Caucasian actors. The detail of his dark complexion provides the film with its most noteworthy characteristic. Throughout the film, there are numerous references to the striking similarities between the two half brothers. It is instantly apparent, however, that "a blind man could tell them apart" from a mile away. Clay Arlington (Dennis Haysbert) is tall, well built and has skin that provides the darkest aspect of the film. By contrast, his half brother Vincent Towers (Michael Harris) is average height, slender and possesses a pale complexion. All of this notwithstanding, every character in the film, including the two brothers, seems to be convinced that the similarities between the two are undeniable. At one point one of the brothers goes so far as to compare the similarity to looking in a mirror. The comparison is made countless times throughout the movie until it becomes tiresome and downright insulting to the perceived intelligence of the viewing audience. After viewing this film I found myself conjuring up mental pictures of writers and producers sitting around a table during a brain storming session. The question they are seeking an answer to is doubtlessly how to make a suspenseful murder thriller focused on amnesia and mistaken identity into an original production. After several ideas have been thrown back and forth, someone ingeniously suggests that they write a screenplay where the mistaken identity victims look nothing alike. At first the idea is rejected. But eventually it is embraced. The concept is so original that everyone is swept along by a wave of enthusiasm until it becomes the only part of the movie that is memorable. And there you have it. All other elements have been shoved to the back of the collective consciousness of this film. The acting is subpar at best. The one noteworthy performance in this film, which is made so only by contrasting it against the others, is that of Harris (Vincent). Given the other disappointments of this film, it should come as no surprise that the best acting is done by the actor with the smallest lead role. Indeed, go for more than an hour without seeing or hearing anything related to Vincent until he randomly shows up and begins tailing Clay. The only memory we have of him is the opening scenes. The source of greatest disappointment in this film, particularly considering its intended genre, is the absolute lack of suspense. The movie is downright boring. Although the cinematography is, for the most part well done, it lacks originality and feels like a crutch to this decidedly mediocre film. The various flashbacks, which Clay experiences, do more to confuse the audience than to provide clarity to the story. Another aspect of this film that bears mentioning is its rather eclectic and random sound track selection. The music feels out of place during several key scenes and the cover of Jonny Cash's "Burning Ring of Fire" is downright horrific. Also, there are various points throughout where sound effects seem to have added significance. A prime example is a phone being knocked over and the resulting dial tone. However, these seemingly significant moments are left open ended and feel more like they were included to lengthen the film's time, rather than provide story complexity. The last and most aggravating detail in this film is the lack of attention to detail taken by the director and editors. The film contains numerous scenes where Clay is facing a mirror while wearing his eye patch. There are several scenes when the eye covered by the patch changes from his right to his left. This and other incongruent details in the film detract from its credibility. [i]Suture[/i] lacks complexity, believability, depth and consistency. The use of black-and-white filming techniques and the creativity of the idea for dissimilar lookalikes do not make up for all of this film's shortcomings. It should be viewed only by someone who wants to learn what not to do when making a suspenseful thriller.
Matthew Swena
Suture Quotes
| | |
| --- | --- |
| Vincent Towers: | Each man has his own jungle. It's just a matter of understanding it and knowing where one fits in. |