I Am A Sex Addict
(2006)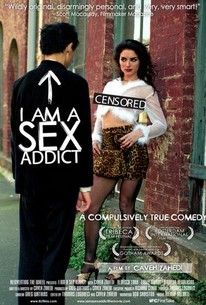 Movie Info
On the eve of his third wedding, documentary filmmaker Caveh Zahedi bravely turns the camera on himself to explore his decade-long addiction to sex in an autobiographical tale of personal peccadillo featuring animation from Waking Life artist Bob Sabiston and featuring a rare film appearance by French porn legend Rebecca Lord. His previous marriages destroyed by his obsession with prostitutes and his many intimate relationships sabotaged by his unwavering commitment to the concept of open relationships, Zahedi boldly bares his soul before the camera to offer a comic look at the life of one man who truly can't get enough. ~ Jason Buchanan, Rovi
Critic Reviews for I Am A Sex Addict
Audience Reviews for I Am A Sex Addict
½
A fascinating watch as we see one man use film making as a kind of therapy. This has probably been done before, but never so openly. Zahedi is an honest and endearing man. His naivety translates well into both comedy and genuine emotion. The constant breaking of the forth wall and laying out facts about the film's production, as well as his story, make this sometimes jumbled, but always enjoyable. I got a real feel for Zahedi, but this film doesn't wallow in self pity or excuse his actions. It's low budget helps Zahedi create some wonderful little quirks.
Luke Baldock
Super Reviewer
½
It's like something between documentary & mockumentary with a Woody Allen-ish kind of humour, Sometimes annoying sometimes funny sometimes uninteresting , sometimes pretentious & sometimes interesting
½
Surprising good story. And it seems this is also and autobiographical endeavor. The director narrates, and tell you about his problems with women..and himself. Funny, and very telling.
Hogans Hero
Super Reviewer
I Am A Sex Addict Quotes
There are no approved quotes yet for this movie.