Daft Punk & Leiji Matsumoto's Interstella 5555: The 5tory of the 5ecret 5tar 5ystem
(2003)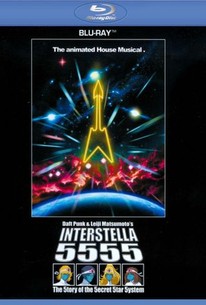 Movie Info
The Euro-electro-pop of Daft Punk is married to an epic sci-fi story line in this ambitious anime project conceived by the band, Manga legend Leiji Matsumoto, and director Kazuhisa Takenouchi. Interstella 5555: The 5tory of The 5ecret 5tar System involves the plight of talented musicians from a neighboring galaxy who are brought to earth by an evil corporation. Stripped of their immense talents, they are turned into a band of emotionless, hit-churning automatons named The Crescendolls. As they play arena after arena in increasingly glitzy fashion, the plucky popsters fight to regain their identities to bring the world the sort of tunes they know they can deliver. Told entirely without dialogue, Interstella 5555 features Daft Punk's album Discovery in its entirety.
People Who Like this movie also like
News & Interviews for Daft Punk & Leiji Matsumoto's Interstella 5555: The 5tory of the 5ecret 5tar 5ystem
Critic Reviews for Daft Punk & Leiji Matsumoto's Interstella 5555: The 5tory of the 5ecret 5tar 5ystem
Audience Reviews for Daft Punk & Leiji Matsumoto's Interstella 5555: The 5tory of the 5ecret 5tar 5ystem
Interstella 5555 is a rewarding fantasy that is delightfully imaginative. The story is a dialogue-free production. Relying simply on observable cues and music with minimal sound effects can somewhat limit its appeal to the casual viewer. Although it lacks the adult themes typical of anime (it is unrated), I suspect the fuzzy narrative will be a bit esoteric for young viewers. It's hard for an adult to understand what is happening at times. Another quibble is that the 4:3 aspect ratio is better suited to an antiquated TV screen than the widescreen standard of today. Yet as a completely wordless experience, the hypnotic visual complement to Daft Punk's music is a rather original concept. I really enjoyed the 70s disco aesthetic. It's dated in a joyfully modern approach.
Mark Hobin
Super Reviewer
I've always been a fan of Daft Punk, from the first time I caught the music video for Da Funk on TV. Spike Jonze created a totally surreal video that manages to tell a story at the same time. After that, their next big hit was Around The World, this time directed by Michel Gondry. So when I saw Daft Punk's retro anime videos for songs off their Discovery album, I was pleasantly surprised to see them going in an all new, yet still perfectly matched direction. It was clear from the videos that there was a larger story to be told, and with the release of Interstella 5555 it was clear that they decided to do something extraordinary, and perhaps unprecedented in the world of music videos. The videos were actually just clips from a longer film they wrote, brought to life with the help of famed Japanese anime director Leji Matsumoto (Galaxy Express 999, Captain Harlock). If you've ever heard the songs on Discovery, you already know that it's a great album in its own right, but mixing this retro anime style movie with the music takes it to a new level. Interstella 5555 fills in the gaps, creating one long music video for every song on the album. There is no dialog, but the images speak for themselves, and it's cool to see what happens in the full story. If you managed to catch some of the videos on TV you were probably intrigued to find out what is going on and the movie makes it all clear. You'll get to know the characters, see a few in-jokes, and enjoy the music style that Daft Punk is known for. The film runs 68 enthralling minutes and is totally worth checking out if you're into Daft Punk or anime. Just sit back, relax, put your headphones on, and go off on an intergalactic trip of epic proportions. This review is a repost from my site: www.plasticpals.com
Robotbling -
Super Reviewer
This is the direction that live techno/house/etc clubs need to take - synching narrative visuals to a music mix. On top of this film's artistic accomplishment, the story is interesting and original, and the mix is superior indeed (it's Daft Punk, what do you expect?). This is not a true musical as it is exclusively music throughout (most without lyrics), and it cannot be properly compared to other group's attempts at concept movies (like Tommy). Still, it's the only "rock opera" that can hold your attention (if you like dance/electronica/etc).
_kelly .King
Super Reviewer
Daft Punk & Leiji Matsumoto's Interstella 5555: The 5tory of the 5ecret 5tar 5ystem Quotes
There are no approved quotes yet for this movie.