Iron Man 2
(2010)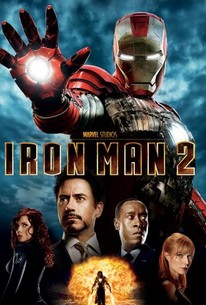 TOMATOMETER
AUDIENCE SCORE
Critic Consensus: It isn't quite the breath of fresh air that Iron Man was, but this sequel comes close with solid performances and an action-packed plot.
Movie Info
In "Iron Man 2," the world is aware that billionaire inventor Tony Stark is the armored Super Hero Iron Man. Under pressure from the government, the press and the public to share his technology with the military, Tony is unwilling to divulge the secrets behind the Iron Man armor because he fears the information will slip into the wrong hands. With Pepper Potts and James "Rhodey" Rhodes at his side, Tony forges new alliances and confronts powerful new forces.
People Who Like this movie also like
News & Interviews for Iron Man 2
Critic Reviews for Iron Man 2
Audience Reviews for Iron Man 2
½
Although enjoyable, this sequel adopts a more serious tone and grants the main character a tragic nuance, which unfortunately turns the movie into a less gratifying experience, since what made the first so great was its sarcastic human hero who never seemed to care about others.
Carlos Magalhães
Super Reviewer
½
It's enjoyable watching Downey Jr's Tony Stark in action again, with some nice set pieces like the Monaco GP (where he meets real-life Stark: Elon Musk), but this sequel falls into the usual trap of not trying hard enough, just relying on the success of its predecessor and not quite meeting the same bar on wit and intrigue.
Ross Collins
Super Reviewer
½
Don't listen to current reviews of this being boring in the middle and not as fun as the first. True its slower than the first and hasn't got as much action yes but that's not a bad thing. These films don't have to be moronic overblown CGI messes and this isn't...surprisingly. Secondly and even more surprisingly is the fact that this comicbook franchise is clearly the best yet, far superior to the X-Men nonsense and much better looking. Thirdly is how much of a great director Jon Favreau is!!! this guy is a pretty average comedic actor and just lingered about in Hollywood until BLAMMO!! he makes the best comicbook superhero adaptation there is!! take that Spidershite. This is a solid film with brilliant CGI and a very likeable main hero in Downey Jr. I can't fault it really, the lack of action wasn't a problem for me in the slightest plus the slow paced intro and use of Rourke really works well making him a much better character instead of the fast n easy cheese fest he could well of been (not sure why you'd make whips for weapons though, seems a bit ineffective no?). All the metal suits just look fantastic, never have I seen such coolness since Star Wars armour based suits. The characters all blend well and don't jostle for screen time plus they are all quite believable as is the entire film really, its well created and nicely grounded...to a degree. There are good performances from a few people here too, of course Downey Jr. is amusing and a well rounded guy, Rockwell is actually pretty likeable too as the baddie industrialist. Rourke, as said, is great as the low key Whiplash and Don Cheadle is calm and collected instead of a possible over the top military type. Only let downs for me were Paltrow of whom I can't stand, terrible actress, and Scarlett Johansson who didn't quite pull off her hardass character for me (I can't get 'Lost in Translation' out of my mind). Finally the use of Jackson as Nick Fury which I never understood seeing as he's black and in my opinion HIGHLY overrated. Lastly I thought the ending of Whiplash was over too quick and a little cheap, he is too good a character to just finish off that easy. I also liked that they used a character who (like Stark) is just a regular guy in a suit, not some supernatural powered all CGI character. Giving him the bird was also a nice touch to emphasise the fact he was just a normal guy, he actually had feelings and maybe not as bad as we think...despite the fact he does go supernova with the villainy at the end. But what about War Machine huh...now that was some badassery right there. I loved that suit with the guns on his shoulders and the matte grey/black/gunmetal colour palette. Really wanted to see more of that character as he looks like the cool ass evil darker doppelganger of Iron Man. The finale where the pair face off against lots of robotic drones is pretty damn fantastic looking, one of the best sequences in all the Marvel films so far and really boosts this film. Don't be put off by the lack of action, its a solid film and shows how you can make a sensible comicbook film. Watch out for little tit bits of 'The Avengers', that film should be awesome if they can get it right. Also stay till the end of the credits for a big hint at the next upcoming superhero member of the future Avengers team. Although I don't like that particular character myself. 'Fury I don't wanna join your superhero boyband'
Phil Hubbs
Super Reviewer
Iron Man 2 Quotes
| | |
| --- | --- |
| Tony Stark: | I already told you, I don't wanna join your Super Secret Boy Band |
| Nick Fury: | (laughs) Nah I remember you go it alone. How's that working out by the way? |
| Nick Fury: | Nah I remember you go it alone. How's that working out by the way? |
| Tony Stark: | It's you know it's, I'm sorry I don't wanna get off on the wrong foot here, do I look at your eye or the patch? I'm still hungover, I can't even tell if you're real or not |
| Tony Stark: | It's you know it's, I'm sorry I don't wanna get off on the wrong foot here, do I look at your eye or the patch? I'm still hungover, I can't even tell if you're real or not. |
| | |
| --- | --- |
| Tony Stark: | (Looks up information about Natalie Rushman) |
| Pepper Potts: | So now your Googling her? |
| Tony Stark: | I thought I was oogling her. |
Discussion Forum
Discuss Iron Man 2 on our Movie forum!