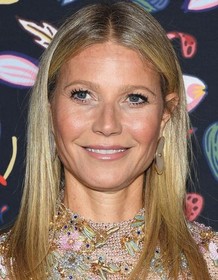 Gwyneth Paltrow
Highest Rated: 94% Avengers: Endgame (2019)
Lowest Rated: 12% Mortdecai (2015)
Birthday: Sep 27, 1972
Birthplace: Los Angeles, California, USA
Gwyneth Kate Paltrow was born on Sept. 27, 1972 in Los Angeles, CA. Raised by Hollywood fixtures Bruce Paltrow, a successful director and producer, and renowned actress Blythe Danner, Gwyneth Paltrow was practically predestined toward a life of show business, despite a brief sojourn studying anthropology at the University of California, Santa Barbara. Paltrow made her acting debut at age 17 in the TV movie "High" (CBS 1989), directed by her father. The following year, Paltrow graced the stage at the Williamstown Theatre Festival, and one year later still she broke onto the big screen with the drama film "Shout" (1991), costarring John Travolta, and Steven Spielberg's reimagining of the Peter Pan story, "Hook" (1991). Before long, Paltrow was starring in hit features like David Fincher's thriller "Se7en" (1995), the Jane Austen adaptation "Emma" (1996), the eventual Best Picture-winning romance "Shakespeare in Love" (1998), for which Paltrow herself won an Oscar for Best Actress, and the revered psychological thriller "The Talented Mr. Ripley" (1999). Throughout this period, Paltrow dated fellow rising stars Brad Pitt and Ben Affleck. The 2000s brought Paltrow to more offbeat fare, such as Wes Anderson's "The Royal Tenenbaums" (2001), the action-adventure movie "Sky Captain and the World of Tomorrow" (2004), and the drama "Proof" (2005). In 2008, she signed onto what would become the beginnings of the Marvel Cinematic Universe, playing Pepper Potts in "Iron Man" (2008). Around the same time, Paltrow launched a lifestyle newsletter (later turned website) called Goop. Paltrow reprised the role in "Iron Man 2" (2010), "The Avengers" (2012), and "Iron Man 3" (2013), all the while playing a recurring role on Ryan Murphy's hit musical dramedy series "Glee" (Fox 2009-2015). Going forward, Paltrow starred predominantly in Marvel films. In 2017, Paltrow lent her voice to the array of allegations against Hollywood producer Harvey Weinstein. In 2018, Paltrow married Brad Falchuk; the following year, she appeared in the series "The Politician" (Netflix 2019-), which he produced with Ryan Murphy.
Photos
Gwyneth Paltrow
SHALLOW HAL, Gwyneth Paltrow, 2001, TM & Copyright (c) 20th Century Fox Film Corp. All rights reserved.
SLIDING DOORS, from left: Zara Turner, Gwyneth Paltrow, 1998, © Miramax
SHALLOW HAL, Gwyneth Paltrow, 2001, TM & © 20th Century Fox Film Corp.
GREAT EXPECTATIONS, Ethan Hawke, Gwyneth Paltrow, 1998. TM and Copyright ©20th Century Fox Film Corp. All rights reserved.
A PERFECT MURDER, Michael Douglas, Gwyneth Paltrow, 1998. (c) Warner Bros..
A PERFECT MURDER, Gwyneth Paltrow, 1998. (c) Warner Bros..
BOUNCE, Ben Affleck, Gwyneth Paltrow, 2000, (c) Miramax
SYLVIA, Daniel Craig, Gwyneth Paltrow, 2003, (c) Focus Features
HUSH, Gwyneth Paltrow, 1998
VIEW FROM THE TOP, Candice Bergen, Gwyneth Paltrow, 2003, (c) Miramax
JEFFERSON IN PARIS, Gwyneth Paltrow, Thandie Newton, 1995
BOUNCE, Gwyneth Patrow, Ben Affleck, 2000, (c) Miramax
THE GOOD NIGHT, Gwyneth Paltrow, 2007. ©Inferno Distribution
THE TALENTED MR. RIPLEY, Matt Damon, Gwyneth Paltrow, Jude Law, 1999, © Paramount
SHAKESPEARE IN LOVE, Gwyneth Paltrow, 1998
EMMA, Jeremy Northam, Gwyneth Paltrow, 1996, (c)Miramax Films
BOUNCE, Ben Affleck, David Dorfman, Alex D. Linz, Gwyneth Paltrow, 2000, (c) Miramax
THE TALENTED MR. RIPLEY, Matt Damon, Jude Law, Gwyneth Paltrow, 1999
THE PALLBEARER, Gwyneth Paltrow, David Schwimmer, 1996