Journeys With George
(2002)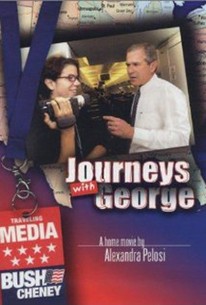 Movie Info
NBC News producer Alexandra Pelosi, assigned to cover George W. Bush's run for the Presidency in 2000, carried a small video camera with which she recorded events along the way. Bush is well aware of Pelosi's project, frequently mugging for the camera, sometimes turning it on her, teasing her about her relationship with another reporter. Despite early setbacks in New Hampshire and Michigan, Bush is able to overtake his chief rival, Senator John McCain (R, AZ), who eventually drops out of the race and throws his support to Bush. Pelosi also records the thoughts of several colleagues, including reporters from The Financial Times of London, Newsweek, and two journalists from The Houston Chronicle and The Dallas Morning News who have already covered Bush as governor of Texas. Pelosi occasionally talks about her own ambivalent attitude toward politics (her mother, Nancy Pelosi, is a Democratic congresswoman from California), the media circus that accompanies any campaign in the television era, and life as a single woman in her late twenties with no romantic prospects.
Critic Reviews for Journeys With George
Audience Reviews for Journeys With George
½
Breaking the Bubble What I find interesting is that, despite the temptation which must have been there, Alexandra Pelosi scarcely mentions her mother, never mentions her mother's accomplishments, and only mentions her mother's politics in context of her own history and what brought her to this position. If anyone else mentioned it, Alexandra did not choose to show it in the film. The movie is not about her mother. It is not even really about the conflict between her own politics--and she is very clearly leaning the same way as her mother--and the politics of the man she's following. That hardly comes up; she seems to be working to limit her bias, though she does not succeed. She does, when we are leading up to the California primaries, tell us who she voted for, and it's no surprise that it isn't the candidate she's following, but the whole thing is limited. Alexandra Pelosi's mother told her, when Alexandra was young, to stay away from Republicans and the media. Naturally, Alexandra went to work for NBC news and ended up on the George W. Bush campaign bus. She was a producer, not a reporter, but she brought a camcorder along to cover her own personal experiences. Little of her documenting seems to be of the candidate so much as it is of the experiences of the media. There's a lot of footage of Bush, but little of it has to do with the scripted campaign appearances. At those stops, she talks more about the other reporters, few of whom ever really get identified by name within the film, leaving me uncertain now who "[i]Newsweek[/i] Guy" really is. What's most interesting about the film is the open contempt and hostility the Bush campaign shows to the press corps. Karl Rove calls them evil and actually seems to mean it. Many of Bush's friendlier moments seem almost as scripted as those campaign stops and the signs provided by the campaign for audiences. (No, those signs are not necessarily things actually made by devoted followers and carried to rallies.) At least once, it is blatantly because he's trying to win over the press and prevent them from emphasizing an error he'd made in a speech. Bush seems genuinely friendly at times, of course, but we know that "seems" is the operative word, there. We know he was saying unpleasant things behind at least some of their backs. And that may inform the distaste Alexandra clearly feels toward her subject. Four years later, she was on a bus full of Democrats instead, and I'm curious as to whether or not the attitude there is the same. It is true that a lot of her annoyance is more directed toward the press experience regardless of the candidate. We are treated to many shots of the interminable turkey sandwiches provided to the press corps for their meals, sandwiches which eventually drive Alexandra to vegetarianism. (Bush tells her that she needs to eat meat.) We know she is not able to bathe as much as she likes. We know that she and the others spend much of the beginning of the campaign shivering in the snow while "real Americans" can go inside and hear the candidate give the same speech she and the others of the press corps have heard dozens of times. (What, you think they give a new speech at every stop?) This is not, she makes clear, a vacation. Bush is as much a character as anyone else. He gets a cinematography credit here for a brief sequence wherein he takes Alexandra's camera away and does some filming himself. This is one of a handful of things within the story that, in my experience, represent universal human reactions to camcorders. It doesn't work the same way with news cameras, of course, but a little hand-held one? (I saw one the other day which will record an hour of video and fit in the palm of your hand. One item more in my list of things which make me feel old.) Everyone wants to take it away. Everyone wants to get right up close to it. I have a dozen or more hours of footage I recorded back when I was living in Port Angeles, many years ago, and owned an enormous, bulky camcorder myself, and I must have footage of quite a lot of eyes and mouths from when people brought them as close to the lens as they could. It's apparently a thing people do.
Edith Nelson
During the 2000 Presidential election, a cute journalist who wears purple glasses exposes Dubya's natural charm.
Lucy Sun
½
Pelosi is a genuis! She was able to capture George w.Bush in all his pre-9/11 and pre-Hurricane Katrina stupid,hick,redneck,retarded glory while traveling on his 2000 campaign trail for presidency. A instant classic documentry!:fresh: :up:
Slim t
Journeys With George Quotes
There are no approved quotes yet for this movie.
Discussion Forum
Discuss Journeys With George on our Movie forum!