Justin Bieber: Never Say Never
(2011)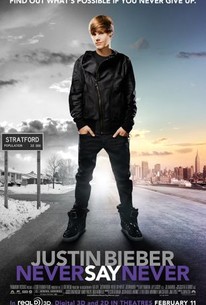 TOMATOMETER
AUDIENCE SCORE
Critic Consensus: As a tour documentary, it's rather uninspired -- but as a 3D glimpse of a building pop culture phenomenon, Never Say Never is undeniably entertaining.
Justin Bieber: Never Say Never Videos
Justin Bieber: Never Say Never Photos
Movie Info
Justin Bieber: Never Say Never is the inspiring true story and rare inside look at the rise of Justin from street performer in the small town of Stratford, Ontario to internet phenomenon to global super star culminating with a dream sold out show at the famed Madison Square Garden in 3-D. -- (C) Paramount
Rating:
G
Genre:
,
Directed By:
Written By:
In Theaters:
On DVD:
Runtime:
Studio:
Cast
News & Interviews for Justin Bieber: Never Say Never
Critic Reviews for Justin Bieber: Never Say Never
Audience Reviews for Justin Bieber: Never Say Never
½
I have no problem with Bieber and his music and I thought that this movie was pretty decent for a concert tour/documentary.
Michael Edwards
Super Reviewer
½
The music industry has drastically changed. Every song talks about partying hard, booze, and hooking up with chicks and is all smothered in Auto-Tune. That just proves that people can't sing anymore Good music is dead and artists like Adelle and Mumford & Sons want to bring that good age of music back. Sadly, everyone loves this Young Money, Ke$ha, and Pitbull trash. However, they all seem bash Justin Bieber as if he was Hitler. He is a 17 year old kid from Canada who posted his singing work on Youtube. This then gets the attention of Scooter Braun, Usher, and soon the world. This documentary tells his story. The film features Step Up director, John Chu, and his camera crew as they follow Bieber on the ten days leading up to his monumental Madison Square Garden concert in NYC. We get a look at his family, early gigs, his Youtube videos, celebrities' reactions to him, and almost everything you want to know about this prodigy among tweens in 90 minutes. The film is literally every Bieber fan's dream. We get glimpses of his infancy, toddler years, and what girls faint at: a shirtless Justin Bieber. Every other girl on your block may know about this kid. I'll admit that I do have one of his songs on my iPod. But many people just hate this dude. People trash this film on IMDB and give it a 1.4/10. I've read many cold things on the film here on RT. The funniest was, "Save yourself $14 by going to Wikipedia". This film could change the way you look at this kid. He works his backside off and never says "never". Anyone who pans this film are unemployed losers who still live with their parents. I'm just guessing. This is a well-put together documentary. Paramount wanted to make the haters "beliebers" as the kids say. The clips used we'll surprise you on how diligent this kid is. Trust me. He sounds much better acoustic. I don't get psyched about documentaries but this does deserve a 70% in my opinion. Its well put together and could inspire. Watch this if you: -Want to know more about Bieber -Are a kid who wants to get into the music industry but feels hopeless about doing it -Wants to boost self-esteem Justin Bieber is just another kid who wants to follow his dreams. I've heard better (Aretha Franklin) and I've heard worse (Rebecca Black). I still respect this kid even though I don't obsess over him. If you don't like this kid, thats okay with me. Just don't bully him on Youtube and Facebook and call him "gay" and "untalented" and pushing dislike buttons 4200 infinity times. That is called cyber-bullying and you don't want to end up like Jessie Slaughter. This is still a good quality film. The only disadvantage is that we get a lot of looks at his creepy overly-devoted fans. I'll never be one of those. Please respect my opinion. Thank you. "ATL, shawty!" Please access this link: http://www.youtube.com/watch?v=MVLmC8Motfg
Bentley Lyles
Super Reviewer
Discussion Forum
Discuss Justin Bieber: Never Say Never on our Movie forum!
News & Features