La Ventana (The Window)
(2008)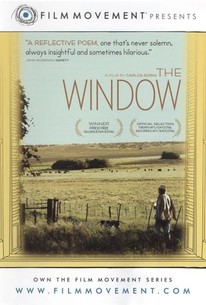 La Ventana (The Window) Photos
Movie Info
Bombón -- El Perro director Carlos Sorin writes and directs this nostalgic meditation on memory, aging, and death concerning a bedridden 80-year-old father anticipating the arrival of his long-estranged son, a world-renowned concert pianist. Antonio (Antonio Larreta) is nearing the end of his days, though before he goes, he longs for one last visit with the son he hasn't seen in years. In order to ensure that everything is perfect for their long-overdue reunion, Antonio asks his caretakers to make his hacienda presentable, hires a piano tuner to ensure that the instrument is in working order, and calls for a 40-year-old bottle of champagne to be brought up from the cellar for a special toast. Later, as Antonio watches preparations for the reunion being made from his window, he becomes overwhelmed by feelings of nostalgia and wistfulness. His doctor has ordered him to remain in bed at all costs, but as the beauty of Patagonia beckons him to rise, Antonio slips by his faithful caretakers for one last walk through his lavish fields.
News & Interviews for La Ventana (The Window)
Critic Reviews for La Ventana (The Window)
Audience Reviews for La Ventana (The Window)
An extremely slow moving film that was mercifully short at 85 minutes. Interminably long takes of the admittedly beautiful scenery, interspersed with scenes of mundane domestic activities provide the background for a story of a man preparing to welcome a rare visit from his son, at the end of his long, full life. Not a lot happens here, but what does occur is presented with such love and tenderness that one cannot help being drawn in. The lighter moments are sprinkled sparingly throughout the film, but they at least relieve what could otherwise have been a very dull film indeed. If action filled shoot-em-ups or laugh out loud comedies are your thing, stay far, far away. But if a beautifully crafted impressionistic portrait of a man at the end of his life sounds delicious, then by all means, dig it for a visual feast.
Mark Abell
Super Reviewer
La Ventana (The Window) Quotes
There are no approved quotes yet for this movie.