Last House on Dead End Street
(1977)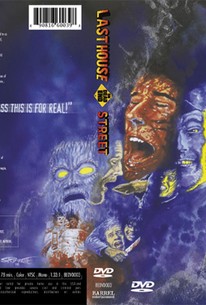 AUDIENCE SCORE
Critic Consensus: No consensus yet.
Movie Info
This notorious exercise in low-budget gore is poorly edited and photographed, but its catalogue of horrors and a genuinely nasty tone make it worthwhile for fans of sick cinema. Vowing revenge on the society which put him behind bars, Terry Hawkins (Steven Morrison) begins making pornographic films for a group of rich decadents, who watch them at orgies. When the jaded Steve (Alex Kregar) complains of boredom, he is kidnapped by Hawkins and his Charles Manson-like gang. The crazed killers force Steve to suck a deer's hoof which a leather-freak named Ken (Dennis Crawford) has placed in his zipper, then they show a snuff film of his friend Nancy (Barbara Amunsen) being murdered. In the film, Nancy's face is slashed repeatedly with a pen-knife, her legs are amputated with a hacksaw, and her stomach is gutted with a pair of hedge-clippers before she is cannibalized. The horrified Steve has his eye drilled out as the film ends with a voice-over stating that the murderers are now in jail. Although it is certainly repulsive, Last House on Dead End Street is not a real snuff film, as some rumors have claimed. The special effects are obviously low-rent, and not particularly convincing, but are vile enough to keep the film interesting. Among other sights awaiting brave viewers are: cows being bled to death in a slaughterhouse, a hunchback whipping a woman in blackface, a blind man being strangled, a woman branded with a hot iron before having her throat slashed, and a vicious beating. One of the more graphic examples of the Manson subgenre, this horror film is for specialized tastes only. The director of the picture is actually Roger Watkins, helming under the pseudonym Victor Janos.
Critic Reviews for Last House on Dead End Street
All Critics (3) | Fresh (3) | Rotten (0) | DVD (3)
dirt cheap and deeply flawed, but still worth enduring; for even if the deaths are faked, there's a real enough intelligence behind it all.
Barrel Entertainment has done it again.
December 29, 2002 | Rating: 4/5
Audience Reviews for Last House on Dead End Street
One of the best low budget horror films I've seen. Last House on Dead End Street is a surrealist horror film about the attempt of a movie director to make a snuff film. The bad lip synced dialogue aside, it is eerie and dark with lots of gore.
Sylvester Kuo
Super Reviewer
An awfully constructed video nasty, LHODES is a shockingly gory flick with a fantastic atmosphere that actually manages to say something in the process, even if most of the message gets lost on it's exploitation. The avalanche of grain on the picture and popcorn sounds on the audio only add to the opressive atmosphere, giving the feeling you're watching something forbidden indeed.
Francisco Godinho
Super Reviewer
Is it good? God no... Roger Watkins the director was high on drugs while making this :P Terry Harwkings get's out of Prison and for reason's never understood he decides to kill the people that put him in their. So he gets a bunch of disturbed people and they make Snuff films out of there captives... It's god awful in everyway and the trailer is misleading. The thing makes it look like Suspiria but no we get a Snuff related film with reasons and things that happen in this that are never exsplained. The acting is dull, and the films sound was done on a tape recorder (becuase of it's no-budget). But one thing that stops me from giving it a zero is it's impressive Effects. The ending slughter of the Girl on the bed influenced here - Guinea Pig 2: Flowers of Flesh & Blood... [IMG]http://i56.tinypic.com/2r2cc2s.jpg[/IMG]
Last House on Dead End Street Quotes
There are no approved quotes yet for this movie.