Lethal Weapon 3
(1992)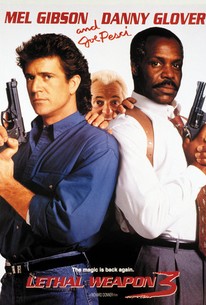 Movie Info
Riggs and Murtaugh are back again. This time, they must stop a former cop who has become an arms dealer to L.A. street gangs.
People Who Like this movie also like
News & Interviews for Lethal Weapon 3
Critic Reviews for Lethal Weapon 3
Audience Reviews for Lethal Weapon 3
½
Lethal Weapon 3 isn't a bad movie. It isn't as great as its two predecessors, but it's still pretty good. The problem with Lethal Weapon 3 is that it's forgettable. The witty banter, likable characters and exciting action are all still here, but it's too safe. What I mean by it being safe is that it steers to much into convention. It just seems like another Lethal Weapon movie but without the spark that made the first two great. There's a lot of good moments in this one and the ending shoot out features a great action set piece. But it relies too heavily on the events that happened in the first two movies and has little character development. Leo Getz is even more annoying in this one and seems a bit shoehorned in (at least they got rid of him early on). Letter Grade: B
Chris Miele
Super Reviewer
Third entry in the Lethal Weapon franchise is a film with mixed results. I really have mixed opinions on the series, and personally, I thought the first was the best one. The first entry was the most exciting, most thrilling, and best written film in the entire series. Obviously sequels followed, and they all had the daunting task of outdoing the original, or predecessor. Lethal Weapon 3 is the second sequel to Lethal Weapon, and it's entertaining, but smething about this film bugs me. Like I said, I never really was that big a fan of these films, and preferred the first. I was more a Die Hard fan. The premise of this story is cool and Mel Gibson plays a cool, mean spirited tough cop. But there's just something about this film that just doesn't cut it for me. I really didn't like Joe Pesci in this film, and I thought he was irritating as hell, I consider his character to be the Jar Jar Binks of the Lethal Weapons. Lethal Weapon 3 nearly succeeds at being a passable sequel for me, but doesn't quite make it. thought the film could have been better, and with the interesting plot, Lethal Weapon 3 could have been a splendid film. But if Richard Donner would've selected his cast more closely, NOT write a part for Joe Pesci, this film would have been better. Entertaining, but not as good as I'd hope it would be.
½
The third part of Richard Donner's cop buddy series is the silliest. It puts a lot more emphasis on humor, but once again offers plenty of violence and ruthless villains. While the plot is merely a variation of the former two films it works mostly thanks to the great chemistry between Gibson and Glover. With plenty of laughs, gunfights and car chases not much can go wrong, after all.
Lethal Weapon 3 Quotes
| | |
| --- | --- |
| Martin Riggs: | Maybe I slept with someone that I probably shouldn't have. |
| Roger Murtaugh: | You son of a bitch! |
| | |
| --- | --- |
| Martin Riggs: | Roger? |
| Roger Murtaugh: | Yeah. |
| Martin Riggs: | Grab the cat! |
| | |
| --- | --- |
| Martin Riggs: | Oops! |
| Roger Murtaugh: | Right, oops. |
Discussion Forum
Discuss Lethal Weapon 3 on our Movie forum!