Like Water
(2012)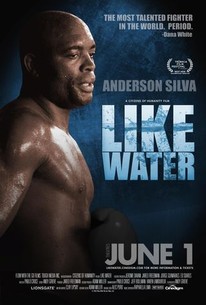 AUDIENCE SCORE
Critic Consensus: No consensus yet.
Movie Info
Like Water focuses on Anderson Silva's life leading up to his UFC 117 fight against Chael Sonnen. Silva is the longest-reigning UFC Middleweight Champion and one of the greatest mixed martial arts fighters of all time. This behind-the-scenes documentary gives a surprising look at the man behind the fighter and the dedication and commitment it takes to stay at the top. From Silva's life in Brazil with his wife, three sons, and two daughters, to training with his team in Los Angeles, Croce peels back the layers of an ultimate fighter to reveal the heart of a champion. -- (C) Official Site
Critic Reviews for Like Water
All Critics (3) | Top Critics (2) | Fresh (1) | Rotten (2)
"Like Water"feels wildly incomplete, a let-down for fans and initiates to the sport alike.
Los Angeles Times
Top Critic
A tepid, superficial sports documentary about Ultimate Fighting Championship middleweight king Anderson Silva.
Pablo Croce's filmic portrait of master fighter Anderson Silva is a priceless viewpoint of a gifted but humble athlete working past the height of his powers.

Audience Reviews for Like Water
½
Like Water is a documentary on UFC fighter, Anderson Silva, and the lead up to his extremely publicized 7th title defense fight against Chael Sonnen. It's a short little movie, but it was very entertaining to watch. If you like UFC and the whole circus atmosphere is exudes, then this movie will give you even more of an appreciation for it. The movie doesn't really dive too deep into the legend of Anderson Silva, but it gets the surface level stuff done well enough. Basically liking this movie comes down to one thing and one thing only. Do you like watching two people beat the shit out of each other? If yes, then this is definitely worth a look. It's even more worth it if you've been a follower or fan of Anderson Silva for a long time. The guy is obviously a remarkable fighter, entertainer, and athlete. It's weird seeing this movie now, after he just lost the belt, but nonetheless, Silva's image of one of the best fighters ever can never be taken away.
Melvin White
Super Reviewer
Like Water may not do much for people who don't enjoy MMA but for fans of the sport the documentary about Anderson Silva is a fun behind the scenes view one of the greatest fighters of all time as he prepares for his title defense against obnoxious Chael Sonnen. Like Water is effective in giving fans of the sport insight into what fighters go through before fight night but it would have been much better with some insight into why Silva became a fighter and his childhood. Like Water could have been about so much more than preparing for a fight but director Pablo Croce missed the boat and left some questions unanswered.
Jonathan Porras
MMA (Mixed Martial Arts) and the UFC (Ultimate Fighting Championship) are bigger than ever. Boxing has taken a back seat and today's fighting champs are seen as fearless, crazy and monstrous. At a base level, there is no mistaking that the sport is not for everyone. But everyone in the sport is not a monster and the skill, patience and sheer willpower it takes to excel in these endeavors are embodied in the current UFC middle weight champion, Anderson "The Spider" Silva. Full Review: http://tinyurl.com/3wtvjuu
Matthew Schuchman
Like Water Quotes
There are no approved quotes yet for this movie.
Discussion Forum
Discuss Like Water on our Movie forum!