Maximum Ride
(2016)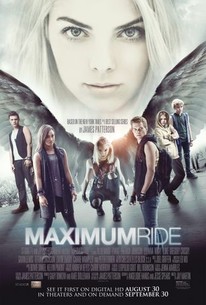 AUDIENCE SCORE
Critic Consensus: No consensus yet.
Movie Info
Fearless and wise beyond her teenage years Max, knows what it's like to soar above the world. She and her family of orphans--Fang, Iggy, Nudge, Gazzy and Angel--are just like ordinary kids. Only they can fly. It may seem like a dream come true to some, but their lives can morph into a living nightmare at any time. When Angel, the youngest member of their flock, is kidnapped, Max must face her worst nightmare yet and lead them back to the lab where they were created. In the process, she discovers the biggest betrayal of all.
Rating:
PG-13 (for some violence)
Genre:
,
Directed By:
Written By:
In Theaters:
On DVD:
Runtime:
Studio:
Studio 71
Audience Reviews for Maximum Ride
If you've read the books and enjoyed them, you probably will not enjoy this movie. However, as someone who did not enjoy the books and found many flaws in them, this movie was something I actually enjoyed quite a bit. This movie plays out more like the first episode of a show, which is understandable considering it was meant to be a web series from the start. The quality of the movie is not nearly as bad as people seem to be making it out to be. It's certainly no Disney movie, but at the same time it has its own charm and will keep your attention the whole way through. To my delight it patched many of the extreme plot holes the books had in them, and this movie provided content that fleshed out the characters properly- something the books had fallen short on, in my opinion. The special effects were a bit rough at times, and for a movie about kids with wings you barely get to see any flying happen. However, I imagine it was hard to make a movie with even this level of CGI. Wing CGI is quite hard to produce. Kudos to the movie for trying to at least incorporate it. And for what it is, the flight scenes are quite nicely done for a small budget film. Though it may not be the most well-made film, Maximum Ride manages to break away from the flaws the books hold and instead turn itself into a standalone film. If you're not going to judge it based off of love of the books, this movie should be an enjoyable watch. Cheers. (These were simply my opinions, thanks).
Ashton --
It could be worse. They changed a bunch of little things that were kinda annoying if you read the books. It wasn't at all a big budget film and I feel like it should have been. It was still fairly decent.
Sarah Helwig
½
I was honestly disappointed with the movie. Being someone who read the books and loved them, I was horrified when i saw the terrible quality of the movie. The first thing I noticed was the plot was different to the book and didn't make quite enough sense to understand if you didn't read the book. The second issue was that the characters were off. They didn't look or act like they were supposed to nor did they speak in the manner that would fit them. This surprised me considering the Author of the series was on the production team. The overall graphics and editing in the movie was terrible and too obviously fake. Last of all, I didn't enjoy the overall way the movie or characters were presented. It just didn't flow or work well. I was really shocked at this movie. The thing that surprised me most was the budget. Considering Hollywood will put millions towards movies that no-one watches and yet when a great novel-turned-movie is coming out they are reluctant to put anything towards it. So, here's my overall conclusion, if you're a fan of the books don't watch the movie. If you don't know of the books than don't watch the movie, it's terrible either way. If you have read the books but hate them than go ahead and watch the movie because: A) If you hate the books than you deserve to be punished. B) You can make fun of the movie. C) There is no-one who hates the books because they're great, so just don't watch the movie.
Ellie Dale
Maximum Ride Quotes
There are no approved quotes yet for this movie.
Discussion Forum
Discuss Maximum Ride on our Movie forum!