Mee-Shee: The Water Giant
(2005)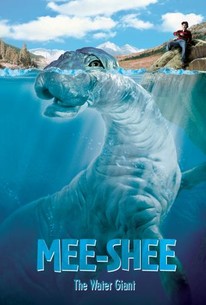 AUDIENCE SCORE
Critic Consensus: No consensus yet.
Mee-Shee: The Water Giant Photos
Movie Info
After many aborted attempts, Sean Campbell (Bruce Greenwood) has finally cleared his relentlessly busy schedule to take his son, Mac (Daniel Magder), on an oft-delayed trip to Disney World. Unfortunately, his bosses at Arctic Oil have other ideas. It seems that a helicopter carrying an extremely valuable drill bit has crashed into a remote Canadian lake and that Sean is the only person who can recover it. Mac, who believes his father places more importance on his work than on his son, is very unhappy about trading in Mickey and Goofy for a backwoods town with little to offer a young boy. Things change dramatically, however, when Mac not only hears tales of a mysterious lake monster named Mee-Shee but actually stumbles upon his hiding place in a secluded cavern. Mac is enormously excited, but none of the adults take him seriously. This includes his father, whose attempt to retrieve the equipment is being foiled by the evil Watkins (Charles Mesure) and his henchman, Mr. Snead (Joel Tobeck), who work for a rival oil company and will stop at nothing to retrieve the drill bit for themselves. Things don't look good for Sean on either a personal or professional level -- until Mee-Shee manages to change all that.
Critic Reviews for Mee-Shee: The Water Giant
All Critics (3) | Fresh (0) | Rotten (3) | DVD (1)
On the plus-side, kids aren't going to care enough about the quality of effects to enjoy Mee-Shee any less.
In this padded out family movie, even the scenes above the lake's surface feel a bit wet.
Essentially the Loch Ness story set in the wilds of Canada (but filmed in New Zealand), this is an enjoyable story about a boy on an adventure with his dad. It's nothing terribly original, but it's decently well-made.
Audience Reviews for Mee-Shee: The Water Giant
This is a pretty klutzy movie. There is a busy single parent, his ignored kid, the compulsory bad guy, the compulsory love interest, the compulsory native local, the compulsory Loch Ness-type monster which all gets wrapped up so everyone can go home happily ever after.
Mee-Shee is a decent film. The great part about this movie is it opens the minds of people again about lochness, nessie, and champ and the probability that perhaps there is a creature out there while adding some efforts and hints to protect not neccesarily "sea monsters" but all aquatic animals that may be on the verge of extinction. The actors are not magnificent but there not too bad either. The little boy and girl probably could of done better, but they were okay for there ages. The film takes the legend of a sea monster to the extreme and goes a little to far at times, but it's a nice movie for kids to watch. My nephew really enjoyed it and that was enough for me too.
Bobby Hobbs
Super Reviewer
Mee-Shee: The Water Giant Quotes
There are no approved quotes yet for this movie.