Miss Lovely
(2014)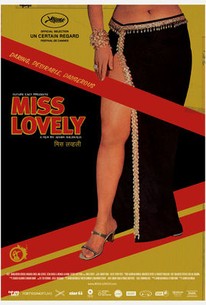 Movie Info
Delving deep into the underbelly of India's film industry, where back-alley producers churn out everything from pulpy horror movies to soft-core porn, MISS LOVELY takes us back to the Mumbai of the 1980s with lurid detail and intoxicating style. Working out of sleazy hotels and abandoned warehouses, brothers Sonu (Nawazuddin Siddiqui) and Vicky (Anil George) are prolific producers of trashy, C-grade films for Mumbai's booming and underground markets. The ambitious, domineering Vicky is the unquestioned brains of the operation, leading the dim-witted Sonu deeper into a world of divas, money men and movie-loving gangsters. But this precarious partnership is put to the test when the brothers meet Pinky (Niharika Singh), an exquisite ingénue with a shady past. Director Ashim Ahluwalia has created a hyper-stylized, retro thriller that explores the awful truths of exploitation cinema as well as its strange pleasures. (C) DADA Films
Rating:
NR
Genre:
,
Directed By:
Written By:
In Theaters:
Runtime:
Studio:
Critic Reviews for Miss Lovely
Audience Reviews for Miss Lovely
½
It's the visual texture of the film that may capture you first, with a zealous focus on representing the era authentically. The movie takes you to places you really don't want to go, get intimate with characters you'd rather not meet, rub grime on yourself laguidly, absently even though you'd rather not accept how abrasive this thick muck feels on your skin. There's nothing 'nice' about this reallity that served the baser instincts of Indian society for well over a decade. It's a time and place the 'new' India would rather forget. The cinematography is what gets you there and keeps you uncomfortably ensconced in it. The lighting and the art direction help the sense of stuck time that makes you aware of impending doom and continued impossibility of hope. It's Sonu's character you might identify with most. Remember when you were a child and thought things get better? But then, as you grew up, you realised how fucked up everything really was? Maybe you've revisited that hope from time to time but always found yourself kicking yourself for forgetting how things really are. In a sense, the movie is about Sonu losing that innocence, slipping in the blackness of his reality, one that his brother revels in. It's Pinky's character that is most layered. You want to believe in her 'purety' but at some point suspect that there's something you don't know about her. It's that subtle craftsmanship that you will remember both Niharika Singh (in her debut, no less) and Ashim Ahluwalia's direction. My suggestion is to darken the room, get a drink of whatever you used to drink in college when money was tight and you weren't too discerning. Swirl in some of that innocence you lost when you entered the 'real' world. Then, sink in slowly into Miss Lovely.
Pankaj Mullick
What a film!! Its an awesome movie on dark side of India.The way 80's mumbai is captured here speaks about the research Ashim did for the film. Splendid work of camera and direction. The story may lag behind a bit but the way the story rolls with the camera grabs your total attention. Suspense stays with you even after the movie ends. Main characters did a marvelous job specially Nawaz and Anil. The work on background music is far better than now-a-days a-grade (actually crap) bollywood movies. Not to forget about a film named 'The Dirty Picture' which released an year before or so, contained nearly same topic on 80's film industry on soft porn. But that movie was totally a masala movie made for daily cinema-go-ers (concentrating more on flesh of vidya balan). But this movie takes you on a 2 hour ride on those days of 80's. It also concentrates on relationships of people among themselves dealing with this side of society. Its a movie which makes you believe that still motion camera has not died in indian movies. Its a must watch movie for every genuine cinema lovers. Thumbs up for the 'Miss Lovely' team.
Anisha Mumtaz
A film unlike any other i've seen this year - and certainly not for a conventional audience seeking a linear narrative or a typical thriller! But for the adventurous movie goer - what a treat! If you are a fan of noir, or moody epics - this film goes beyond all expectations. On the surface a tale of 2 brothers working in the underbelly of Bollywood, but in reality a sprawling epic that takes in the look and feel and texture of the times. It made me feel like I worked in the seemy underbelly of mumbai in the 80s - the sweat and humidity as palpable as anything in cinema.The typical criticism of lack of "cohesion" in the screenplay or "character development" that is often associated with the film has less to do with the film than the audiences own prejudices of how a film should play out. In this case, the film drifts, floats through scenes, sometimes plays like pulp, other times like poetry - again, much closer to a novel than to a typical film - and it has the power (if you give in to it) to absolutely transform you. Possibly of all the films I've seen this year, Miss Lovely made the most impact. It left me drained, and made me think about long after I had left the cinema.
Joanne Emerson
Miss Lovely Quotes
There are no approved quotes yet for this movie.