The Muppet Movie
(1979)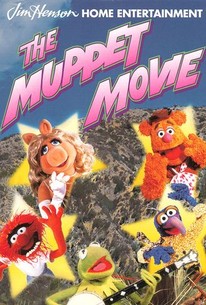 Movie Info
Kermit the Frog is persuaded by agent Dom DeLuise to pursue a career in Hollywood. Along the way, Kermit picks up Fozzie Bear, Miss Piggy, Gonzo, and a motley crew of other Muppets with similar aspirations. Meanwhile, Kermit must elude the grasp of a frog-leg restaurant magnate.
People Who Like this movie also like
News & Interviews for The Muppet Movie
Critic Reviews for The Muppet Movie
Audience Reviews for The Muppet Movie
½
"Ever since the recent Muppet movie came out my 8 yr old nephew has been obsessed with them. So when he saw this streaming on Netflix, he begged me to watch it with him. I had never seen it before, but I really enjoyed it. I think I enjoyed watching my nephew watch it more then the actual movie. He gets very excited and jumps and screams at the t.v. and laughs very loud. OK so to put short, he's loud. I either get amused looks or dirty looks from fellow movie goer's when we go to the theater. Back to he movie. I loved that it was a road-trip. I have made it known that I love a good road-trip flick. I adore Kermit. I think he's a great character for kids. It was funny. I laughed out loud a few times. I guess the only thing that really got on my nerves was all the singing. It is a known fact that with these movies there will be singing. I don't think it would have bothered me if the songs didn't last for almost ten minutes. My nephew said he could have done without them too, so I'm not alone in thinking it. But overall it was a fun movie that kids and adults can both watch and have a fun time with."
♥˩ƳИИ ƜѲѲƉƧ♥
Super Reviewer
½
The Muppet Movie is a film that really touched my funny bone and my heart seeing as I am a huge Muppet fan. The plot shows how they got together and it really worked for me and was fun ride, other than the boring parts with the evil frog legs tycoon. The cast was funny and did good, escpially the Muppet cast, they are always likeable. The comedy was just as perfect as comedy gets, it was seriously a hilarious ride and I loved it. The movie is for true fans of puppets, and if you are you are sure to love the best of them all, the Muppets.
Jim Careter
Super Reviewer
½
Waka waka waka! Let the good times roll! Before I die of impatience for the new Muppet movie to arrive to Sweden, I thought I'd go back to the humble beginnings of these wonderfully timeless entertainers. More specifically, 1979. Bubbling with life and great musical numbers, this tells the backstory of how all the muppets came to befriend each other. Featuring cameo performances from some of the biggest stars of the 70's (Steve Martin, Richard Pryor, Mel Brooks and countless others), it has a lot to boast about in the "human half" of the cast. Some of the special effects are actually pretty flabbergasting. Like how they made Kermit ride a bike in full visible view. I'm genuinely at a loss for how they did that, even if I have a fair idea. Either way, it's a good example of the dying art that the muppets have come to represent. You don't need a bunch of computer effects to make great entertainment. All you need is a little imagination and a team of passionate, hard-working people to help you realize your dream. Jim Henson made a stroke of genius when he created this colorful gang of fun-loving characters. And the fact they're still around, more than 30 years later, goes to show how timeless they truly are. So whether you're an old fan or new, I can highly recommend a visit to this first and original muppet movie. Many of its human stars may have faded out of relevance, but it's not really for them that we watch this film in the first place. It's for the green little frog and his wackadoodle friends.
The Muppet Movie Quotes
| | |
| --- | --- |
| Fozzie Bear: | There was this sailor who was so fat! |
| Sailor: | How fat was he? |
| Fozzie Bear: | Uh, he was so fat that everybody liked him and there was nothing funny about him at all. |
| | |
| --- | --- |
| Great Gonzo: | "There's not a word yet, for old friends who've just met. Part heaven, part space, or have I found my place? You can just visit, but I plan to stay. I'm going to go back there some day." |
| Great Gonzo: | There's not a word yet, for old friends who've just met. Part heaven, part space, or have I found my place? You can just visit, but I plan to stay. I'm going to go back there some day. |
| | |
| --- | --- |
| Kermit the Frog: | [navigating in the Studebaker] Bear left. |
| Fozzie Bear: | Right, frog. |
| | |
| --- | --- |
| Fozzie Bear: | Ahh, a bear in his natural habitat - a Studebaker. |