My Awkward Sexual Adventure
(2013)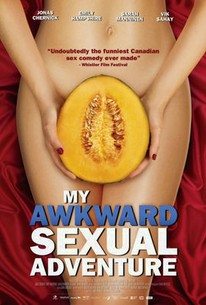 My Awkward Sexual Adventure Photos
Movie Info
Dumped by his girlfriend over his sub-par sex skills, uptight accountant Jordan (Jonas Chernick) goes to visit his lothario friend Dandak (Vik Sahay), hoping to learn some tricks to improve his game. Instead, he ends up finding a "sex Yoda" in Julia (Emily Hampshire, COSMOPOLIS), a worldly stripper with a mountain of debt; in exchange for teaching her money management, she agrees to introduce Jordan to a brave new world of massage parlors, cross-dressing, and S&M. Surely the first film to ever include a graphic act of cunnilingus on a cantaloupe, AN AWKWARD SEXUAL ADVENTURE is a sweet, sexy, genuinely raunchy comedy - and just might teach you a thing or two in the sack. (c) Tribeca
Critic Reviews for My Awkward Sexual Adventure
Audience Reviews for My Awkward Sexual Adventure
½
I found myself extremely frustrated that it took this total nebish so long to figure out that his ex-girlfriend was a selfish biotch, and that his new friend was a treasure. Totally self-absorbed, socially inept, and hopelessly obtuse, I found it hard to believe he could attract either one of these two lovelies. But, having said that, the film did manage to entertain and hold my interest. The title is certainly apropos. Awkwardness abounds. There are a few chuckles and some delightful eye-candy and the ending, when it finally gets there, is somewhat satisfying. I am not sure I can look at a cantaloupe again without conjuring up one particularly salacious scene, but then again, one uses whatever educational props one has at hand to get the message across and this one was, if nothing else, effective.
Mark Abell
Super Reviewer
My Awkward Sexual Adventure Quotes
There are no approved quotes yet for this movie.