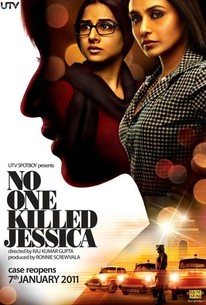 No One Killed Jessica
2011, Crime/Drama, 2h 17m
10 Reviews
5,000+ Ratings
Where to watch
Subscription
Rate And Review
No One Killed Jessica Photos
Movie Info
Tending bar at an elite event in Delhi, India, Jessica (Myra Karn) refuses to serve three men after last call. One of the men, Manish (Mohammed Zeeshan Ayub), who's the son of a big-time politician, shoots her in the head in response. There are dozens of eyewitnesses, but as Jessica's sister, Sabrina (Vidya Balan), discovers, they are either conveniently forgetful or willing to sell their testimony to the highest bidder, leaving an open-and-shut case hostage to greed and political influence.
Genre: Crime, Drama, Mystery & thriller

Original Language: Hindi

Director: Raj Kumar Gupta

Producer: Shamsher Walia

Release Date (Theaters): limited

Release Date (Streaming):

Box Office (Gross USA): $439.8K

Runtime:

Distributor: UTV Motion Pictures
Audience Reviews for No One Killed Jessica
Inspired by a true event, No one killed Jessica tells the story about young model that was shot dead at a nightclub by the son of powerful politician in India in 1999. Given the synopsis, I was keen to watch and hope for some hard biting flick, but as always when it comes to Indian cinema, things tend to get over exaggerated, over spice and overly done. The movie could easily be wrapped up in an hour and half but they stretch it to two hours. But, just because I hated long duration movie, should it be ignore? I'm a junkie for justice and political corruption movies, and when once actually comes from Bollywood, I'm impressed. The actors did good to live up the hype, but it's Rani Mukherji mannerism who saves the movie (I've read some reviews here and they said she acted bad? Fuck you!). Having some journalism background in my pocket, the way she played a hard core journalist is exciting and I'm proud of her role! At the end of the movie, I was left with feel-good hormones, thinking that it was a good attempt by the Indian cinema I normally despise and maybe just maybe this could inspired someone, somewhere, sometime. 6.5/10.

a film based on true events in india towards the end of the 90s, and how it brought about change in the corrupt justice system they had in place there. a young woman getting shot for a simple reason and the injustice of her case, when almost all witnesses got bought off and guilty man went free. a film that is interesting and shows a part of indias history about corruption. this obviously goes on everywhere to some degree, more than others, so a universal story

Based on the true story of Jessica Lal murder case in 1999, this film points finger at the corrupted and outdated justice system in India. The plot and theme of the movie is powerful and meaningful. But disappointing, even pathetic performances from the main cast spoil the party and even kind of took the edge off the movie. Vidhya Bhalan is toned down to such an exaggeration that, more than often her character looks like a retard. Although the intention was to present a strong independent woman, Rani's character looked pretty stupid with all that excessive swearing.

Just for denying to serve the drinks since it was past the bar time, Jessica Lal gets shot by a politician's son - Manish (aka Manu), accompanied by his 2 friends and in the presence of around 300 people. When TV news reporter Meera (Rani Mukherjee) is asked to cover the news, she denies it saying that being an open-and-shut case (considering there were around 300 witnesses), it's out of her league. However, during interrogation, while Manu confesses that he shot her unintentionally, most of the people deny their presence at the party at the time of murder, and hence having not witnessed it. Following that, Manu's father uses his political influence to turn over whatever few witnesses were ready to testify and manipulates the evidences. Jessica's sister Sabrina (Vidya Balan) tries her best and struggles a lot to get justice done, but in vain. Eventually, the court rules in the favor of the defendants and they're set loose. As a result, Sabrina loses her faith in getting justice and gives up. On the other hand, when Meera comes to know about the court ruling, she's taken aback. She decides to take over the issue and draws the media's attention to the case. She brings the fact in public and asks for their support for the cause of justice. It leads to a massive uproar among the public and they join the campaign against injustice. Eventually, the high-court declares suo moto and asks the police to reopen the case. Movies based on actual events are made less in Bollywood as compared to Hollywood. Jessica Lal's case was quite well-known and was appropriate as a movie's subject. Rajkumar Santoshi aptly uses this case as a side-subject in his movie Halla Bol. However, 'No One Killed Jessica' has Jessica Lal case as its main subject. Unfortunately, the movie isn't up to the mark. The story sounds good on paper, but the pathetic execution makes the movie one of the worst movies I've ever seen based on real case. Whether it be Rani Mukherji's over-acting or exaggerated performance by Vidya Balan, almost everything in the movie is overdone. And the use of cussing more than required also serves as a drawback. Okay, in real life, people cuss, but here cussing is used quite often needlessly and mostly to glorify a certain character. It seems like the film-makers had a misunderstanding that if they use more swearing (especially in English) in an ample amount, the movie would look more authentic. The movie could have been way too better than what it is had it been handed in proper hands. While the movie has received positive response from most of the critics, IMHO, Rajkumar Gupta [whose debut directorial movie 'Aamir' (copy of 'Nick of Time') was a hit] fails in fictionalizing the actual story adequately and doesn't do proper justice to the movie. I'd huge expectations and the movie hardly satisfied me. The movie would have been better off with less over-acting, over-dramatization and over-cussing.
See Details