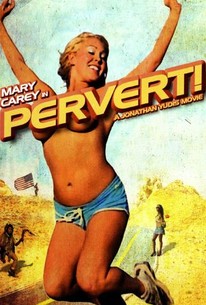 Pervert!
2005, Comedy/Horror, 1h 21m
4 Reviews
1,000+ Ratings
Rate And Review
Movie Info
A young man (Sean Andrews) spends the summer at his father's (Darrell Sandeen) remote ranch, but a killer lurks just under his nose.
Audience Reviews for Pervert!
Not quite a horror movie. Starring pornstar Mary Carey, that should give you an idea of what to expect. It can almost be labelled as softcore porn. This movie has no problem showing T&A at least once every minute. The plot is basic and stupidly funny, the humor isn't terrible, and the characters are well...most of them are always topless so it doesn't matter. The last twenty minutes get especially weird, I don't want to ruin it though. Ratings: Acting: 3/10 Story: 3/10 Originalality: 5/10 Soundtrack: 4/10 Characters: 5/10 Scariness: 2/10 Overall Rating: 6.3/10 Sexiness: (The following is my Review for the fappers 18+): This movie is great to fap to. One of the girls in pornstar Mary Carey, who you fapmasters may already be familiar with. There is plenty of T&A to keep you going. Fap Rating: 8.5/10

Is this movie dumb? Hell yeah! But it's still pretty entertaining! Besides the plethora of topless women, Pervert! has some quirky low-budget gags that add to its charm. If you like naked chicks, and bizarre horror, check this weirdo film out! =)

you have no IDEA what a bad movie looks like. i have experienced my brain morphing into a jello mold and eating itself..... i'll never make a rude comment about "the hills have eyes part 2" again.

Atrocious acting, offensive behavior, and a ridiculous premise combine to make a pretty enjoyable little sexploitation flick. Russ Meyer would definitely approve of the, uhh, let's say, buoyancy of the actresses.
See Details