The Proud Valley (The Tunnel)
(1940)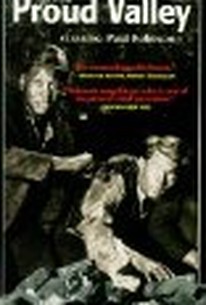 AUDIENCE SCORE
Critic Consensus: No consensus yet.
Movie Info
Proud Valley was directed by Pen Tennyson, whose early death in WW2 robbed the British movie industry of one of its more talented contributors. African American singing star Paul Robeson heads the cast as David, a black stoker seeaking work in the coal mines of Wales. He finds an ally in the form of miner Dick Parry (Edward Chapman), who is less interested in David's capacity for work than he is in the newcomer's robust baritone. It seems that Parry is in charge of the local miner's choir, and he hopes to win the national singing meet on the strength of David's vocal chords. An unexpected disaster not only puts an end to this dream, but also threatens to financially wipe out Parry, his family and all his friends. It is David who comes to everyone's rescue with a spectacular, near-messianic act of self-sacrifice. Though it seems somewhat flat when seen today, Proud Valley is enervated by the commanding presence of Paul Robeson. ~ Hal Erickson, Rovi
Critic Reviews for The Proud Valley (The Tunnel)
There are no critic reviews yet for The Proud Valley (The Tunnel). Keep checking Rotten Tomatoes for updates!
Audience Reviews for The Proud Valley (The Tunnel)
We're All Black Down in the Pits One of the things I learned while studying the US South in college was that class stratification gets even narrower the lower you get. Everyone needs someone to look down on. It was one of the reasons poor whites who would never be able to own even a single slave fought for the Confederacy; if the slaves were free, would they still be on the bottom? Or would the poor whites find themselves in that place? Even among slaves, better to be a house slave than a field slave. I have no reason to believe that such things were limited to the US South, either, which is part of why I found the easy acceptance of David Goliath (Paul Robeson) in this movie a bit unbelievable. Yes, okay, he's got a bottom bass like a church organ. I get that. And it's true that it's easier to cross class boundaries when you have something the upper class needs. Still, within five minutes, he didn't experience any racial prejudice? Of course, I'm not even entirely sure how he ended up in the coal country of Wales in the first place, all things considered, but there he is. His voice brings him to the attention of Dick Parry (Edward Chapman), a coal miner who also conducts a group of miners planning to compete in the Eisteddfod. Dick's son, Emlyn (Simon Lack), is hoping to marry Gwen Owen (Janet Johnson), daughter of the local shopkeeper (Dilys Davies). However, everyone's plans are dashed when an explosion in the mine kills several men, including Dick. The mine is closed, and the men are thrown out of work. Mrs. Owen won't let Gwen marry an out-of-work miner, even though she'd been perfectly happy to let her marry him before. Emlyn thinks he has a way to reopen the mine, but the owners won't listen. However, everyone in the village but Mrs. Owen has faith in him, and David gives Emlyn the support he would have given Dick had Dick survived the explosion. The miners want to work. This is an important thing to keep in mind. In most good films about workers, the people want to work. After the mine closes, the men want to go back to work, but it isn't safe. Part of the problem is that they were earning more as miners; we find out that pretty much everyone in town owes money to the store, because no one is getting enough to pay their bills. (David says he's trying not to eat too much!) We don't get too much about either the union or the owners, though both are at least tangentially part of the story, but the workers are generally shown to be good men who are trying to earn a decent living. There are no labor issues here; they're so busy trying to get the mine opened again that how much they'll get paid for going down there doesn't come up. Mine safety is an issue, of course, but they're so determined to work that they're willing to take an extra risk. Especially when Hitler invades Poland; it doesn't take an expert to realize that they'll need more coal in time of war than in time of peace. The study of billing is of continual interest to me. Paul Robeson got top billing here, despite the fact that his character is actually relatively minor. He'd been in a handful of movies before this--including yesterday's [i]Jericho[/i]--though not always in major roles, which put him ahead of pretty much everyone else in the movie. He was also known from acting and singing before he started making movies. He was, let's face it, the closest thing this movie had to a big name. Therefore, he got top billing. The real star of the picture is probably young Simon Lack, who went on to a long, if not particularly distinguished, career, including appearing on several episodes of [i]Doctor Who[/i]. Realistically, Robeson plays his sidekick. He's pretty much there to support first Dick and then Emlyn. Honestly, the fact that he's a large black man probably helps with that; having a Large Black Man as your supporter is a fairly common trope, for some reason. The Wikipedia page for this movie is dreadful as of this writing. (Yeah, I know--I could go edit it myself. However, I don't feel I know enough about the movie to do a proper job, and I'd feel guilty just trimming out the garbage and not replacing it with something better.) Someone has written some questions that they hope someone else will answer. (Which I would, if I knew the answer, and I'd improve the page while I was at it!) It's strange to me that people don't seem to know what things like Wikipedia and the FAQ page on IMDb are for. Many times, I have seen people just asking questions on the IMDb FAQ page, not noting that, for example, that's what the message board section is for. Ignorance of the facts is understandable, goodness knows, especially the facts about a seventy-year-old British movie that's pretty obscure and probably was at the time. Ignorance of how Wikipedia works is a little bit less acceptable, especially to the extent that appears there right now.
Edith Nelson
The Proud Valley (The Tunnel) Quotes
There are no approved quotes yet for this movie.
Discussion Forum
Discuss The Proud Valley (The Tunnel) on our Movie forum!