Punch (Wan-deuk-i)
(2011)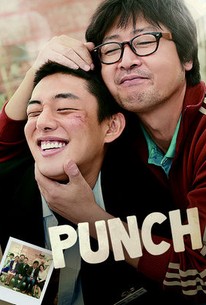 AUDIENCE SCORE
Critic Consensus: No consensus yet.
Punch (Wan-deuk-i) Photos
Movie Info
17-year old Wan-Deuk comes from a poor family and his grades in school are equally poor. He is rebellious and troubled student, but unrivalled when it comes to fistfights. Wan-Deuk's life takes a turn when he gets to know his annoying and weird teacher Dong-Joo. Dong-Joo gradually changes from an enemy to a friend as the two get to know each other. Learning to express his anger at the world by taking on kickboxing, the unlikely hero experiences emotional growth and what it means to have a dream.
Critic Reviews for Punch (Wan-deuk-i)
All Critics (1) | Fresh (1) | Rotten (0)
Punch is a film with a positive message and has just the right balance of entertainment and emotion to achieve the status of a good pick me up film.
Audience Reviews for Punch (Wan-deuk-i)
½
I thought this was a very good movie. It's a sweet coming of age story that, surprisingly, isn't as sentimental as one would have expected. That's not to say there isn't some sentimental stuff here, because there is. It just isn't as annoying as in other films. The problem lies, though, in that the movie is simply content in being very good. There was never at any point where I thought the film was great, or even getting close to it for that matter. I'm not saying that people didn't work hard to put this film together because they did. Even in the shittiest of films there are people who work hard to put it together. Anyway, as I was saying, the film is never great but the acting is solid, I like Wan Deuk and Dung Zoo, as he called him, and their antagonistic chemistry with each other. I also liked how the movie looked at issues that I haven't seen done in a lot of Korean movies. It deals with themes of racial diversity, but not in a preachy way, thankfully. So yea this is a very good movie with strong acting, funny moments, good characters. Somehow you'd think this would make a movie great...but it doesn't. I'd still recommend it however.
Jesse Ortega
Super Reviewer
Punch (Wan-deuk-i) Quotes
There are no approved quotes yet for this movie.
Discussion Forum
Discuss Punch (Wan-deuk-i) on our Movie forum!