Reekers: L'Odeur de la mort
(2005)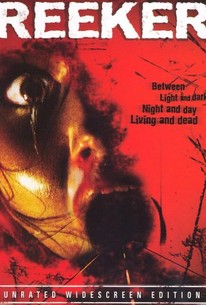 Reekers: L'Odeur de la mort Photos
Movie Info
Lorsqu'ils sont contraints de se terrer dans un motel abandonné, cinq adolescents deviennent la proie d'une étrange force meurtrière. Devon Gummersall, Derek Richardson, Tina Illman, Scott Whyte, Arielle Kebbel, Michael Ironside, Marcia Strassman. Écrit et réalisé par Dave Payne.
Critic Reviews for Reekers: L'Odeur de la mort
Audience Reviews for Reekers: L'Odeur de la mort
img]http://images.rottentomatoes.com/images/user/icons/icon13.gif[/img]
Directors Cat
Super Reviewer
½
A suspenseful and occassionally gruesome slasher with an interesting premise. But despite the eventual plot twist it isn't quite as unique as it thinks it is. A good little indie film though that provides plenty of little shocks and a nasty vicious villain who's revealed quite late on in the movie after a fairly slow build up. The conclusion of the film isn't quite wrapped up as tightly as it could have been and some people may be left scratching their heads. It's worth a look overall, but it's nothing great.
Fun horror film, although I wish it would've been gorier. It just had the right feel to be an all out gore fest, and I was disappointed how much they shied away from some potentially creative, bad-ass kills. It did however have some standout, creepy moments and plenty of spooky atmosphere. The picture was great and everything had a dark, chilling feel to it. The performances are solid, no complaints there, and although not as smart as it could have been, the script was still creditable but on a more simple level. At times it may have moved at a slower pace, but the characters helped fill any boredom with sly humor and conversation that it never losses it's grip. There's really nothing here that'll make your jaw drop, but you'll certainly have a good time with this one. It's one horror film you shouldn't miss. "When a lonely highway is inexplicably closed, five students sharing a ride to a party in the desert find themselves trapped at an empty motel. Refusing to let the new circumstances interfere with their fun, they settle in only to be interrupted by odd, haunting visions of severely mutilated travelers. The gruesome sightings may explain the sudden abandonment of the motel and diner, but the appearance of the retiree with a missing wife confirms their worst fears. He too has seen the dying people - victims of a killer, one that has likely taken his wife - a killer trailing a dark force of decay and rot." Dave Payne(director) has a horrible track record, which is why I'm surprised Reeker was as good as it was. It may not be the most original horror film, this theme has been done quite a few times, but not many horror films sprout originality nowadays anyway. I like to think of it this way - If 90 minutes of my evening watching a movie didn't feel like a waste of time because I was too busy having fun with it, than why complain? Being that Reeker was so simple, and at the same time very smart in choice of direction, there's not much I can blame it for in terms of being a complete suck-fest. Could it have been better? Of course they could have pushed the envelope more, improve the eye candy and raise some jolts, but the end result is still satisfying enough to please and make you accept Reeker for what it is. And what it is, is a pretty damn good horror movie. Creepy and entertainingly fun. It's a great movie to watch on a rainy night!
jd cryptic
Super Reviewer
Reekers: L'Odeur de la mort Quotes
There are no approved quotes yet for this movie.