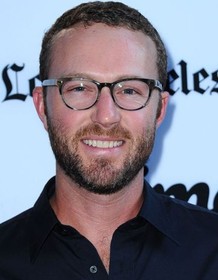 Devon Gummersall
Highest Rated: 72% Dick (1999)
Lowest Rated: 14% The Young Unknowns (2000)
Birthday: Oct 15, 1978
Birthplace: Durango, Colorado, USA
As a curly-haired dyed-blond teenager, Devon Gummersall played the overachieving, somewhat socially maladapted but well meaning boy-next-door in "My So-Called Life" (ABC, 1994-95). After his family settled in the Los Angeles area, Gummersall made his professional debut at age 10, appearing in TV commercials. He went on to make guest appearances on several series including "Step By Step" and "Blossom" (both 1992) and "Dr. Quinn, Medicine Woman" (1993) before snagging a regular assignment. Gummersall made brief appearances in the theatrical films "My Girl 2" (1994), "Beethoven's 2nd" (1993) and "It's My Party" (1996). He returned to series TV, this time as a close cropped brunette, as the brooding younger brother of one of the protagonist lovers in the the ensemble drama "Relativity" (ABC, 1996-97). Since the end of that series the actor worked steadily in films and TV, mostly smaller and straight-to-video fare, among them: Sondra Locke's directorial effort "Do Me a Favor" (1997), the WWII mini "When Trumpets Fade" (1998), a recurring role during the first season of the WB's "Felicity" (1998), in the political satire "Dick" (1999) as Kirsten Dunst's 1970s-era brother , the lurid thriller "Lured Innocence" (1999) opposite Dennis Hopper, the dramedy "Men Named Milo, Women Named Greta" (2000), the indie comedy "Seven and a Match" (2001) and the TV sci-fi thriller "Earth vs. the Spider" (2001) opposite Dan Aykroyd and Theresa Russell. His next major role was as Puck, the leader of a young group of self-proclaimed anarchists in the impressive, serio-comic "The Anarchist Cookbook" (2003), inspired by the famed undergorund manual.
Photos
Devon Gummersall
STRANGER IN THE HOUSE, (aka THE INHERITED), from left: Annabella Sciorra, director Devon Gummersall, on set, 2015. © Lifetime Television
REEKER, Devon Gummersall, Tina Illman, Derek Richardson, Scott Whyte, Arielle Kebbel, 2005
Mad Men, Elisabeth Moss (L), Devon Gummersall (R), 'Severance', Season 7, Ep. #8, 04/05/2015, ©AMC
INDEPENDENCE DAY, Lisa Jakub (right), 1996, Tm and Copyright (c)20th Century Fox Film Corp. All rights reserved.
STRANGER IN THE HOUSE, (aka THE INHERITED), from left: Nathan Darrow, Tammy Blanchard, director Devon Gummersall, on set, 2015. © Lifetime Television
STRANGER IN THE HOUSE, (aka THE INHERITED), director Devon Gummersall (pointing), on set, 2015. © Lifetime Television
REEKER, Devon Gummersall, 2005
REEKER, Devon Gummersall, 2005
REEKER, Devon Gummersall, 2005