Scream 3
(2000)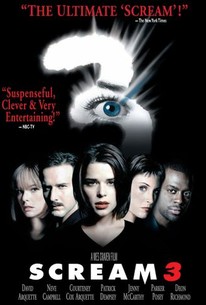 TOMATOMETER
AUDIENCE SCORE
Critic Consensus: According to critics, Scream 3 has become what it originally spoofed. Despite some surprising twists, the movie seems to have lost its freshness and originality by falling back on the old horror formulas and cliches.
Movie Info
In the third and final episode of the Scream trilogy, Sidney realizes that she can no longer escape her past. Inspired by horror movies, the killer once again returns, but this time all trilogy rules are broken.
People Who Like this movie also like
News & Interviews for Scream 3
Critic Reviews for Scream 3
Audience Reviews for Scream 3
The conclusion of the "trilogy" is this unimaginative installment that relies too much on cheap scares followed by a deafening chord and is too witless to know how to play with the clichés of the genre as the first movie - and it comes up with a ridiculous, illogical revelation in the end.
Carlos Magalhães
Super Reviewer
Detective Wallace: This is great! Ten more murders and we can publish a calendar.  "Someone has taken their love for trilogies one step too far." Scream 3 is an obvious and sad step down from the greatness of the first two movies. Still, it's better than about 90% of slashers out there, especially when franchises get deeper into their runs. Williamson not writing the script hurt the movie most, but it's still his story, so at least he is there in some way. The film is still very tongue in cheek and relies on humor,  as a way to parody the genre. I'll admit that, even me, someone who likes this movie, can see why a lot of people don't. Especially given that the first two were instant classics.  Describing a plot for a movie like this is kind of a waste of time, especially when it's pretty much the exact same plot as the first two. This time however the killing isn't going on in Woodsboro, but in Hollywood, where Stab 3 is being made. There's a lot of Hollywood humor thrown into the movie and in a way Craven makes some good references to what Hollywood really is, but it's still vastly inferior to his previous commentaries. The cast is pretty good with a lot of returning faces and some new ones including Parker Posey, Emily Mortimer, Scott Foley, and Patrick Warburton. The movie has its problems, but that is normal for the genre. It's just more disappointing because the first two were so good. Had Scream and Scream 2 never been made and a movie of this quality came out, we would probably view it in a different light. That's the hardship of success though. When you do great, more is expected from you. Overall, I still enjoy this movie every time I see it. Did I expect more from it the first time I watched it? Yeah, but I've come to respect it for what it is. It's not a genre changing film like the first two were. It's just an add on for the people that really love the Scream franchise. Scream 4 was more of the same. So in the end, this franchise is still the best slasher franchise out there from start to finish in my eyes. Although it helps that most of them suck right from the get go.
Melvin White
Super Reviewer
A shoddy, unnecessary sequel to an overall impressive series concerning horror films and their construction, this time dealing with the production aspect of it where Sidney Prescott (Neve Campbell) is drawn back into a sadistic killer's cross-hairs yet again. The thing that made the 'Scream' movies so enjoyable was its self-referential sense of humor. Unlike the first two installments, this one really does not contain any of that and instead sprints ahead into exactly the kinds of movies it is supposed to be making fun of. Not very memorable performances from anyone, and a lot of predictability that makes it boring after awhile. A real disappointment considering the fact that "Scream 2" was arguably better than "Scream", so the creators of these films definitely showed they had the potential to get better as they went along. This is not the case.
Dan Schultz
Super Reviewer
Scream 3 Quotes
| | |
| --- | --- |
| Gale Weathers: | I've got an idea, I'll hook up with you guys later. |
| Riley: | Do you want us to come with you? |
| Gale Weathers: | I work better alone. Why don't you try to find out where those other pictures were taken? |
| Sidney Prescott: | I can see nothing's changed. |
| Riley: | No. |
| | |
| --- | --- |
| Roman Bridger: | You follow directions well Sidney. Now, welcome to the final act! |
| | |
| --- | --- |
| Dewey Riley: | So you know Sidney Prescott's mother? |
| John Milton: | Who? |
Discussion Forum
Discuss Scream 3 on our Movie forum!