Sharknado 3: Oh Hell No!
(2015)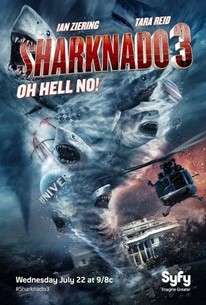 TOMATOMETER
AUDIENCE SCORE
Critic Consensus: Sharknado 3: Oh Hell No! bites off more than it can chew, leaving viewers with an overlong mess that isn't even bad enough to be good.
Sharknado 3: Oh Hell No! Videos
Sharknado 3: Oh Hell No! Photos
Movie Info
The entire East Coast comes under threat when shark-infused storms wreak havoc on Washington, D.C., and Orlando.
News & Interviews for Sharknado 3: Oh Hell No!
Critic Reviews for Sharknado 3: Oh Hell No!
Audience Reviews for Sharknado 3: Oh Hell No!
½
Just when you think we've seen it all we have a third movie about sharks inside tornadoes, And for most of the films it's just as silly as the others, Full of eye rolling gags that soon get tired, It's the same old story until the end when it gets too silly and even I felt embarrassed for the film, Again it's full of celeb cameos who all get eaten and even though it's only just better than the 2nd I still found myself wishing it was over soon, Kind of like wishing for a quick death in many ways.
Jamie Clarke
Super Reviewer
½
For me this is the best in the series so far. Sharknado is getting so utterly ridiculous that it's fast becoming an actual film worthy of merit and not just for the poor special effects and cheesy dialogues. More sharks, more chainsaws, what more do you need?
Ian Walker
Super Reviewer
½
What in the fuck can you expect from Sharknado 3? Honestly, you can't possibly come into this film expecting it to actually be any good. I mean these are purposely bad B-films in order to make you laugh. Perhaps the main complaint I have, and will always have with these films, is why not actually spend the time trying to make a good film. The fact that The Asylum are in on the joke sort of ruins the entire effect that they're trying to go for. I think a film like this would be funnier if it was actually made in earnest and it just ended up being terrible. The fact they're in on it is like explaining a joke, it just loses its impact. With that said, I did think that Sharknado 3 was actually a slight improvement over Sharknado 2. I do like how The Asylum spends all the additional money they must surely get to produce these films on celebrity cameos and not on improving the special effects and CG. Granted, part of the 'charm' of these films are the fact that the special effects are really fucking cheap, where a lot of the comedy comes from. It's either that or the complete disregard for science, physics or logic employed. Sharks can swim in one-foot deep water. Water can stay inside a house without any of it leaking out from underneath doors. With that said, at least until David Hasselhoff appears, the film is really kind of a chore to get through. It's the law of diminishing returns honestly. Though I do think that once the Hoff appears, it does pick in its ridiculousness and absurdity to a satisfying degree. One other thing, this film employed the 'services' of Ann Coulter as the VP of the United States of America. Part of the reason I thought she was put into this film, her being one of the most detestable human beings on earth, whether or not she truly believes the hate she spews, the fact of the matter is that she's a millionaire by spouting hateful opinions disguised as facts to idiots who don't know any better. So, you'd think, that putting her in a film like this would mean that she'd die a horrific death at the hands of a shark. That's what I, and probably many others, wanted. Is that what we get? Nope. Not at all. Which begs the question why cast her in the first place? Almost every other celebrity in the film dies. Talk about disappointing. That's, perhaps, the most disappointing film about the entire film. Ann Coulter does not meet a horrific end at the 'hands' of a shark. But I digress, I think the film does increase in silliness once the Hoff appears. And it couldn't have come at a better moment. I do think that the whole Hoff part of the film is, surprisingly, inspired. I wouldn't call it good, I wouldn't ever do that, but I do think they hit their 'stride', if you will. I honestly kind of wish that the Hoff would've played a larger part in the film. There's some laughably bad scenes here involving slo-mo. The acting, oh boy. What can be said about the acting in this film that isn't the obvious. It's pretty much terrible, by design, but still. Tara Reid, honestly, has to be one of the worst actresses I have ever seen. She is a black hole of charisma. No presence, poor facial expressions, terrible delivery. It's not Ian Ziering is any better, he's a very slight improvement. I still remember that movie she did with Ashton Kutcher, which was actually one of the worst films I've seen in a long time, My Boss' Daughter, and she was just so fucking terrible in that film. I'm still holding that against her. But, to be fair, her no talents are a perfect fit for this film. With that said, this movie isn't very good and it suffers from winking too much at its audience. But the people who loved previous films will also love this film. They'll also watch Sharknado 4. I also plan on it. I may have my issues with this series, but part of me still enjoys watching them, in spite of them being in on the joke. I can't really recommend this. If you've seen both Sharknados, then this will be more of the same for you. Not a good film, what a surprise.
Jesse Ortega
Super Reviewer
Sharknado 3: Oh Hell No! Quotes
Discussion Forum
Discuss Sharknado 3: Oh Hell No! on our Movie forum!