The Shock Doctrine
(2009)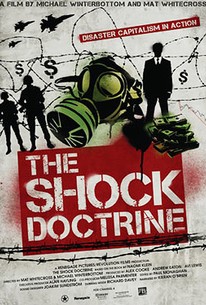 The Shock Doctrine Photos
Movie Info
The team of Michael Winterbottom and Mat Whitecross returns with their most intriguing provocation to date, an adaption of Naomi Klein's best-seller, which argues that U.S. "disaster capitalism" promotes its free-market agenda on the back of disasters, whether natural or manmade. A challenging, powerful vision of the world economy today.
Critic Reviews for The Shock Doctrine
Audience Reviews for The Shock Doctrine
½
"The Shock Doctrine" is an insightful documentary that starts not so innocently enough back in the 1950's at McGill University where a psychologist discovered you could use shock therapy to disrupt somebody enough to make them susceptible to suggestion and even being overwritten. As you can imagine, the CIA had a collective erection when they found out. That's nothing compared to the free market thinkers at the University of Chicago who saw what could be done with this on the national scale, first at Chile, then Argentina, and right down to the present day in Iraq. The problem is that free market capitalism does not always equate with personal freedom. Plus, as everybody found out, once you end regulation, the markets are more open to instability and wild fluctuations, thus forcing the common person to suffer under the yoke of massive inflation. Of course, they don't really care about them, since this all benefits the wealthy, anyway. While most of this might not sound exactly new, especially to those of us who read Naomi Klein's book of the same name, it is interesting to see her critical theories placed in historical context and illustrated as well as they are here.
The Shock Doctrine Quotes
There are no approved quotes yet for this movie.