Sling Blade
(1996)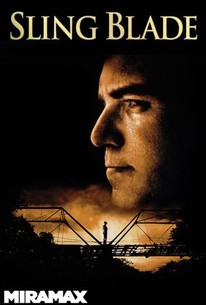 Movie Info
Sling Blade marked the directorial debut of country singer turned actor Billy Bob Thornton, who also authored the script (expanding George Hickenlooper's acclaimed short Some Folks Call it a Sling Blade) and stars in the picture. Thornton plays Karl Childers, a mildly retarded man who spent most of his life in a mental institution. When Karl was a boy, he was severely mistreated by his abusive father (Robert Duvall). At age 12, Karl found his mother having intercourse with a man who tormented him endlessly; he snapped, flew into a homicidal rage, and killed both individuals by decapitating them. Years later, as a middle-aged man, Karl is deemed harmless to society and released from the mental institution where he resides. Karl says he has learned his lesson and adds, "I reckon I got no reason to kill no one." He returns to the town of his boyhood, where he's befriended by Frank (Lucas Black), the son of a widowed mother who sees the eccentric but open-hearted Karl as a kindred spirit. Karl also gets a job at a fix-it shop and resides in the backroom, until Frank's mother, Linda (Natalie Canerday), takes a liking to Karl and lets him stay with them. However, Karl also meets Doyle (Dwight Yoakam), Linda's boyfriend, a sadistically cruel, narrow-minded drunk who tosses casual abuse at Frank, treats Linda like dirt, and mocks Karl endlessly. The late John Ritter co-stars as Linda's friend Vaughan, a mild-mannered homosexual who works at the neighborhood dollar store. Musicians Col. Bruce Hampton and Vic Chesnutt are among Doyle's party guests. ~ Mark Deming, Rovi
People Who Like this movie also like
News & Interviews for Sling Blade
Critic Reviews for Sling Blade
Audience Reviews for Sling Blade
Its a Hollywood gimme: feature a mentally/physically challenged soul as the central character in a picture and, bingo, Oscar time. And the twist? We learn to forgive and love ourselves through the big, wide open heart of the poor pathetic lug who's more human than us despite their infirmities. In this one the crazy murderering guy who's actually been committed turns out to be the nicest guy in the town! Thornton went Hollywood with this ... and never looked back. Yoakam's good as the bad guy, too.
Kevin M. Williams
Super Reviewer
½
This is the film that made Billy Bob Thornton an icon. He pulls triple duty as the star, writer, and director (his debut in this particular area) of this haunting tale based on an acclaimed short film he also authored and starred in. Set in a small Arkansas town, we follow Karl Childers (Thornton) a mildly retarded man who, for the past 25 years has been in a state hospital for murder. He's deemed stable, and released back into the world. We follow him as he returns to the town he grew up in a d tries to move on with his life. He begins a friendship with a young boy, his mother, and her gay friend. Things get greatly hampered thanks to the mother's vile, alcoholic, and abusive boyfriend, and it's not long before Karl realizes that a change is in order. The character of Karl is one of the most fascinating and memorable ever. I can't help but break out my imitation of him every time I see this movie, or hear it mentioned. He's just a joy to watch, and he's got a really interesting take on the world that is great to experience. He's not the only one who shines here though. J.T. Walsh is chilling as a fellow patient at the hospital, John Ritter is great as the gay friend Vaughan, and Dwight Yoakam is terrific as the loathsome boyfriend. The film is equal parts funny, sad, and unnerving. It's extremely compelling and unforgettable, and makes for a great watch, although it's probably not something you really want to endure all that often, as it does get very uncomfortable to bear at times. This one really impresses me, and it's a shame that Thornton hasn't reached the level of greatness that he does here since.
Chris Weber
Super Reviewer
A depressing, arresting character story involving a former killer, who is let back into society once he serves his time. Billy Bob Thornton's incredibly restrained performance is what keeps this movie interesting, he creates a character so broken from his former life, and now his new one, that the only thing that matters in his life (that being Lucas Black's character) is worth fighting for. You'll probably see the ending coming from a mile away, but it is definitely a fitting one. Great acting all-around, from Thornton, Dwight Yoakam, John Ritter, and Lucas Black as the boy who befriends Thornton, this is an impressive movie. Don't watch it if you don't like sad stories, this is definitely a somber tale of a man who doesn't know where he fits in a world that is "to big" for him, as he says himself.
Dan Schultz
Super Reviewer
Sling Blade Quotes
| | |
| --- | --- |
| Karl Childers: | "They say I'm well..." |
| | |
| --- | --- |
| Karl Childers: | French fried pataters |
| Karl Childers: | French fried pataters. |
| | |
| --- | --- |
| Karl Childers: | I like gravy on my fries. ummm..mmmm |
| Karl Childers: | I like gravy on my fries. |
| | |
| --- | --- |
| Karl Childers: | I don't reckon I got any reason to kill anybody. Um..Hmm.. |