South Central
(1992)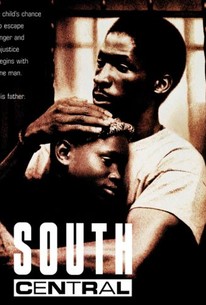 Movie Info
Glenn Plummer delivers a powerful performance in this angry film based on Crips, a novel written by South Central Los Angeles high school teacher Donald Baker, and directed by Steve Anderson, who served time in prison. Plummer plays Bobby, a young black man trapped in a self-perpetuating cycle of hatred, incarceration, and bloodshed. On his first day out of prison, he comes back to the streets of South Central LA and the only family he knows --the gang. He finds that his best friend Ray-Ray (Byron Keith Minns) is now the leader of the Deuces. Ray-Ray, with plenty of sweet talk, easily talks Bobby into committing a murder, killing a rival gang leader. But before the killing Bobby finds that his girlfriend Carole (LaRita Shelby) has given birth to his son. He also sees that she is becoming too dependent on her drug supply. After the killing, Bobby is hauled back into jail for a ten-year stretch. In jail, Bobby undergoes a transformation. Introduced to the Muslim community and mentored by an older convict named Ali (Carl Lumbly), Bobby begins to read W.E.B. Du Bois and Martin Luther King. He learns about self-respect and how gangs use people like him. When he is once again released from prison, Bobby is a new man. But South Central has gone from bad to worse. Carole, now completely addicted to cocaine, works as a hooker to support her habit. He also discovers that Ray-Ray has recruited his 10-year-old son Jimmie (Christian Coleman) as a junior gang member, stealing car stereos. Jimmie looks upon Ray-Ray as a role model and Bobbie must find a way to save his child from the violent and doomed future of a gang member.
Critic Reviews for South Central
There are no critic reviews yet for South Central. Keep checking Rotten Tomatoes for updates!
Audience Reviews for South Central
Havent seen it in a while but can see why I loved this movie. Absolutely mesmerizing in how you get caught up in this movie and truly feel emotionally invested in the characters. Couldn't fight back the tears that welled up in my eyes as I wiped them away.
Stan G
½
South Central is a film that is great to talk about after watching. That revolves around the cycle and violence that is in the black community with gang violence overcoming the streets and families being left in sorrow after losing a loved one. Glenn Plummer as Bobby Johnson is a great actor in this film with him playing a likable yet sometimes unapologetic character having been in prison little did he know weeks after being let out he would be back in for 10 years. No other performance really stuck out besides Carl Lumbly as Ali who feels Bobby's struggle and wants to help guide him into making better choices and to change himself to save his son which Ali could not explaining how the cycle of violence sticks in the African american community. Bobby changes his ways and leads on a search for his son, while I loved mainly two performances in the film, Christian Coleman as Jimmie had a little bit of awkward performance but at times his acting excelled. South Central is a great film about the cycle of violence, hurt, and gangs, and what would you do to save your son is a keypoint and this is a question left you.
Joey Villegas
POWERFUL, A MAN'S JOURNEY THRU HIS LIFE IS CHANGED WHEN HE REALIZES HIS SON MAY FOLLOW HIS FOOTSTEPS AND DECIDES TO ALTAR HIS PATH.
chris ross
South Central Quotes
| | |
| --- | --- |
| Bobby Johnson: | he aint a duce, he a mothafuckin shermhead |
| Bobby Johnson: | He isn't a duce, he's a mothafuckin' shermhead. |
Discussion Forum
Discuss South Central on our Movie forum!