Striptease
(1996)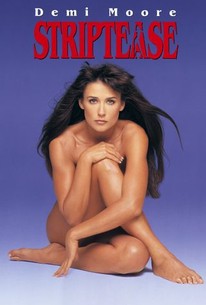 Movie Info
Based on Carl Hiaasen's satirical novel, Striptease tells the story of Erin (Demi Moore), who has just gotten a divorce from Darrell (Robert Patrick), the sleazy ex-con she foolishly married. However, the judge's memories of Darrell's days as a football hero win him custody of their daughter, and Erin, concerned for her child's safety, is determined to fight the decision. Erin has just lost her position as a secretary for the FBI, so, to cover her legal bills, she takes a job as an exotic dancer at a strip club called the Eager Beaver. While she has no experience taking off her clothes in front of an audience, Erin soon makes friends with the fellow dancers and finds a protector in the club's burly but good-hearted bouncer, Shad (Ving Rhames). She also makes a few fans among the regulars at the club, most notably David Dillbeck (Burt Reynolds), a drunken lout with a bottomless appetite for sleaze -- who also happens to be a conservative congressman with ties to right-wing religious groups. One of Erin's admirers snaps a photo of her with the congressman when a brawl breaks out at the club, and he suggests that it would make fine blackmail material. However, when the man with the photo turns up dead, Erin discovers that Dillbeck's people play a bit rougher than she expected. The home video version of Striptease contains two minutes of footage that was clipped from the theatrical release in order to win the film an R rating. ~ Mark Deming, Rovi
People Who Like this movie also like
Critic Reviews for Striptease
Audience Reviews for Striptease
½
If Demi strutting around like a skinned chicken in an excessive amount of strip scenes doesn't make you want to die, the constant use of Annie Lennox and eurythmics songs will do it for you.
Nicki Marie
Super Reviewer
Striptease was a big miss of a film. The film is a total waste, and has some of the worst performances that I've seen. The film is pretty pointless. The story is paper thin and has no redeeming factor. Not even Demi Moore's nice rack can save this atrocious picture. The cast is very questionable and their performances seem too fake for my taste. This film is awful. There's absolutely no other way to describe it. The performances suffer because the actors are terrible. The film is not engaging one bit, and it's just a big boring attempt at trying to make a good film. Obviously the film has gotten attention for Demi Moore, and it is really the only point of interest of this film. Not even that can save the film. This film is poorly acted, directed with a bad cast and a poor script. Striptease fails to entertain, and though we see Demi Moore's lovely assets, the film has nothing else going for it. A terrible, pointless film that should've never been made. Striptease aside from Demi Moore naked is not a good film; the film lacks a very good story, good story and everything else that makes a film good. I don't understand how this trash got made. A pointless and stupid film, Striptease is not good entertainment and is easily forgettable because the film is so mediocre. An awful film that should be avoided. This film also shows that Demi Moore isn't that good of an actress either. So aside from Moore naked, you're not missing much. If you want to watch it, proceed with caution. One full star for Demi Moore's figure!
Not as bad as I was expecting! Way too long at close to 2 hours, must have been so they could fit in so many scenes of Demi stripping. Surprised to see Ving Rhames and Robert Patrick were in this along with a funny Burt Reynolds. Quite funny in places and well... plenty of nudity to!
Striptease Quotes
There are no approved quotes yet for this movie.