The Dark Knight Rises
(2012)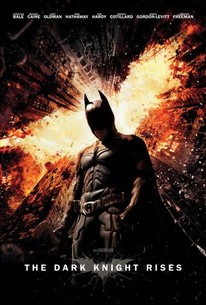 TOMATOMETER
AUDIENCE SCORE
Critic Consensus: The Dark Knight Rises is an ambitious, thoughtful, and potent action film that concludes Christopher Nolan's franchise in spectacular fashion.
The Dark Knight Rises Photos
Movie Info
It has been eight years since Batman vanished into the night, turning, in that instant, from hero to fugitive. Assuming the blame for the death of D.A. Harvey Dent, the Dark Knight sacrificed everything for what he and Commissioner Gordon both hoped was the greater good. For a time the lie worked, as criminal activity in Gotham City was crushed under the weight of the anti-crime Dent Act. But everything will change with the arrival of a cunning cat burglar with a mysterious agenda. Far more dangerous, however, is the emergence of Bane, a masked terrorist whose ruthless plans for Gotham drive Bruce out of his self-imposed exile. But even if he dons the cape and cowl again, Batman may be no match for Bane.. -- (C) Warner Bros.
News & Interviews for The Dark Knight Rises
Critic Reviews for The Dark Knight Rises
Audience Reviews for The Dark Knight Rises
A perfect conclusion to one of the best trilogies in history, "The Dark Knight Rises" balances smarts, action and emotion with expert precision. "Rises" may not be a great movie on its own. As a standalone story it feels incomplete and without the existence of the prior two chapters it would be vacant emotionally. "Rises" manages to also improve the stature of first entry "Batman Begins" and cements "The Dark Knight"'s status of one of the best superhero films in history. Set eight years since the conclusion of "The Dark Knight", "Rises" finds Bruce Wayne in depressed hiding, still recovering from losing his true love and sacrificing his alter ego's reputation for the sake of Gotham City. But his sacrifice is only a temporary solution as there's terror threatening to rise and destroy Gotham City. Wayne/Batman is inspired to come out of hiding as a cat burglar awakens his libido and arouses his curiosity. The story is not as strong as "The Dark Knight" was but the themes are connected and Nolan is able to complete his trilogy puzzle quite ably. Tom Hardy puts some affected touches on Bane, but it works. "The Dark Knight Rises" ends one of the best superhero trilogies in dark but appropriate fashion.
Tony Gandía
Super Reviewer
½
Despite Wagnerian pretensions what arrives is a film awash in its own mythos, like a soul mumbling to itself in the dark ... which should suit the fans just fine. Effective performances, enough surprise cameos to charm, decent and fun writing, strong directorial vision, a bad guy up to Batman's standards (altho vocally muffled - what's up with that???), what's not to like? See it at IMAX for the full thundering effect, and there's a lot of thunder.
Kevin M. Williams
Super Reviewer
The more time that passes, the worse I feel about this film. this film adds levitt and hathaway, two actors i love, but is really pretty bad. a dud to cap off what could have been a masterful trilogy.
The Dark Knight Rises Quotes
| | |
| --- | --- |
| Bane: | Your punishment must be more severe. |
| | |
| --- | --- |
| Miranda Tate: | You see, it's the slow knife, the knife that takes it's time, the knife that waits years without forgetting, then slips quietly between the bones, that's the knife, that cuts deepest. |
| | |
| --- | --- |
| Bane: | You think darkness is your ally. You've merely adapted the dark. I was born in it, molded by it. I didn't see the light until I was a man and by then it was only blinding. |
| | |
| --- | --- |
| Bane: | Do you feel in Charge? |
| Daggett: | I paid you a small fortune. |
| Bane: | And this gives you power over me? |
| Daggett: | What is this? |
| Bane: | Your money and infrastructure has been important, until now. |
| Daggett: | What are you? |
| Bane: | I'm Gotham's reckoning. Here to end the borrowed time you all have been living on. |