The Dog
(2014)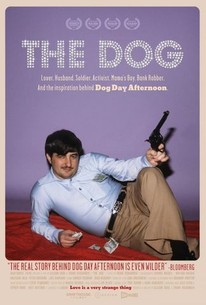 TOMATOMETER
AUDIENCE SCORE
Critic Consensus: Fascinating, evocative, and as unconventional as its subject, The Dog offers a colorful window into the real-life story behind a classic film.
Movie Info
An intimate portrait of the vivacious John Wojtowicz, the inspiration behind Al Pacino's character in Sidney Lumet's Oscar (R)-Nominated Dog Day Afternoon. Coming of age in the 1960s, John Wojtowicz took pride in being a pervert. His libido was excessive even by the libertine standards of the era, with multiple wives and lovers, both women and men. In August, 1972, he attempted to rob a Brooklyn bank to finance his lover's sex reassignment surgery. The attempted heist resulted in a fourteen-hour hostage situation that was broadcast on TV. Three years later, Pacino portrayed his character instigating the unforgettable crime on the big screen. The award-winning film had a profound influence on Wojtowicz, and when he emerged from prison six years later, he became known as "The Dog." Filmed over the course of a ten-year period by co-directors Allison Berg and Frank Keraudren, and interweaving extraordinary archival footage on the robbery, 70s era interviews and the early gay liberation movement in which "The Dog" played an active role, the documentary captures the many sides of John Wojtowicz's larger- than-life persona: he is by turns lover, husband, soldier, lover, activist, New Yorker, mama's boy and bank robber. (c) Drafthouse
News & Interviews for The Dog
Critic Reviews for The Dog
Audience Reviews for The Dog
If you loved Dog Day Afternoon, you will love this crisp well developed doc on the story that inspired it all. John Wojtowicz proves as dynamic a personality as Pacino.
John Ballantine
Super Reviewer
Meet John Wojtowicz. If the name does not sound familiar(and no reason why it should), then it is definitely worth mentioning that he was the inspiration for the movie "Dog Day Afternoon." And he comes off as very much a character himself in this highly engaging documentary. But it was not always that way, as he started off as a Goldwater Republican and got married. Four years later, he campaigned for Eugene McCarthy.(Vietnam would do that to a guy.) At the same time, he was also becoming attracted to other men, involving himself in the nascent gay rights movement of the early 70's, partially just to get laid.(He describes himself as 'perverse.' I would amend that to 'polymorphously perverse.') By the way, some of those protests involve same sex marriage. And that's where Liz Eden, nee Ernest Aron, comes into the picture, Joe's lover who he married in something of a mock ceremony. In fact, he robbed the bank to pay someone to break her out of a psych ward where she was being held on suicide watch. The demand to pay for her sex change operation would come out of the siege at the bank which is no longer there, nor is there any kind of plaque. So, was Joe a revolutionary or just yet another garden variety common criminal? Depends on who you ask. In any case, he was definitely reckless and it was lucky more people were not killed, as the intense media coverage knocked the even more criminal Richard Nixon off the nightly news. In the end, Joe served his time and Liz got her operation. But since this is not a fairy tale, nobody lived happily ever after.
The Dog Quotes
There are no approved quotes yet for this movie.