The Vatican Tapes
(2015)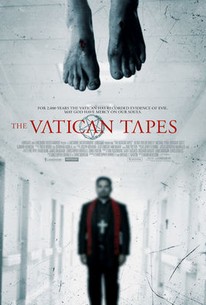 Movie Info
THE VATICAN TAPES follows the ultimate battle between good and evil- God versus Satan. Angela Holmes is ordinary 27-year- old until she begins to have a devastating effect on anyone close, causing serious injury and death. Holmes is examined and possession is suspected, but when the Vatican is called upon to exorcise the demon, the possession proves to be an ancient satanic force more powerful than ever imagined. It's all up to Father Lozano (MICHAEL PEÑA) to wage war for more than just Angela's soul, but for the world as we know it. (C) Lionsgate
Rating:
PG-13 (for disturbing violent content, and some sexual references)
Genre:
, ,
Directed By:
Written By:
In Theaters:
On DVD:
Runtime:
Studio:
Critic Reviews for The Vatican Tapes
Audience Reviews for The Vatican Tapes
½
Mark Neveldine's first solo directorial effort The Vatican Tapes is a silly, late night horror flick, and actually a decent watchable exorcism thriller. Two priests attempt an exorcism on a possessed young woman in this horror film directed by Mark Neveldine. Here we have it folks. Another horror film about a possessed young girl. Huh-hum, but The Vatican Tapes is honestly a decent throwback to these old horror movies, a good cheesy midnight horror flick to see, and I believe it's not as bad as some individuals are making it out to be. In the beginning of the film, we see and learn from the exorcism montages that high-ranking religious officials have made a lifestyle of investigating paranormal activity over the past 2,000 years. They have been seeking individuals that could definitively prove the antichrist is amongst us. We meet Angela Holmes, played by Olivia Taylor Dudley (Chernobyl Diaries, Paranormal Activity: The Ghost Dimension). She is our typical horror movie possessed girl. She is cute, young, happy, and has a boyfriend named Pete, played by John Patrick Amedori (Stick It, Scott Pilgrim vs. the World), and her rough and tough religious father, Roger, played by Dougray Scott (Hitman, Hemlock Grove). One day Angela comes across mysterious raven. The raven leads to Angela being responsible for a car. The raven causes chaos were ever it goes, and lands Angela in the hospital. Angela becomes more sinister over time, and that is when Father Lozano, played by Michael Pena (Observe and Report, Ant Man) soon realizes a demonic spirit may be at cause. This film made for a perfect low budget horror midnight movie. If you are looking for a silly yet fun late night flick with friends, this is a good one. Do not come in here expecting a horror classic. It is just a campy, not to be taken serious horror movie. This movie reminds me very much of a grindhouse film with a bigger budget. My only complaints are the cast are not really the most convincing characters. The most sympathetic individual is Angela's father, Roger. He has done his best to raise his daughter all by himself, and now, after being out of town with the army, is with her long enough to see her fall horribly ill. Also, I believe this film would have been a little better with an R rating. The scares aren't really scary, the possession doesn't seem all that frightening, and some good ol' gore could have been used to enhance the characters and story. So these are my final Bitchin' Buddha thoughts on the film The Vatican Tapes. This movie knows what it is and does not try to be any more than that. The chills are not really there, but a decent story is in here. I believe The Vatican Tapes earns a... 2.5 out of 5 Thank you all for reading and or viewing, and I hope you all have an amazing day as always. :)
Boogie Buddha
½
A little creepy, but not all that scary, The Vatican Tapes is a stereotypical demon possession film. When a young woman becomes possessed a priest gets permission to perform an exorcism, but it's soon revealed that they're not dealing with an ordinary demon. Olivia Dudley and Michael Peña lead the cast and give solid performances. And, the possession is fairly well-done, delivering all the standard fare; body twisting, shaking objects, prayers in Latin, etc. But the plot is paper thin with little character developed, and it gets batshit crazy at the end. For those who enjoy supernatural thrillers The Vatican Tapes will do, but there's nothing original or compelling about it.
Dann Michalski
Super Reviewer
This is the generic,do nothing horror crap Hollywood is selling these days......this is a bowl of crap horror stew only here to steal the viewers money.
bill secor
The Vatican Tapes Quotes
There are no approved quotes yet for this movie.
Discussion Forum
Discuss The Vatican Tapes on our Movie forum!