Twist of Faith
(2004)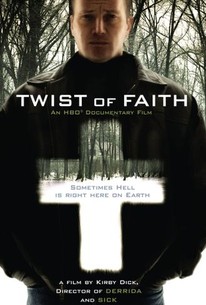 Movie Info
A man must reconcile his religion with a need for justice and closure in this documentary. Tony Comes was a firefighter living in Toledo, OH, with his wife and children. While Comes was a solid family man and had the respect of his fellow firemen, he was hiding a secret that had been haunting him for almost 20 years -- when he was 14 years old, Comes was sexually abused by a Catholic priest, an event that left him with emotional scars that were slow to heal. In 2002, as stories of child sexual abuse at the hands of Catholic clergy were appearing in newspapers across the country, Comes decided it was time to take action. Comes met with the bishop in his parish and told him of the incident, but he soon discovered that he was not being told the truth about what was being done to prevent the priest from molesting other children. Seeing little alternative and concerned about the safety of others, Comes filed a lawsuit against the parish. Twist of Faith is a documentary that follows Comes as he deals with his inner turmoil and the often uncharitable reactions of others as he attempts to bring his abuser to justice, while maintaining his sincere faith in God and his loyalty to the Catholic Church. Produced for the premium cable network HBO, Twist of Faith was nominated for Best Documentary Feature honors at the 2005 Academy Awards.
Rating:
NR
Genre:
, ,
Directed By:
In Theaters:
On DVD:
Runtime:
Studio:
Artistic License
Critic Reviews for Twist of Faith
Audience Reviews for Twist of Faith
About as bad a documentary as can be made. While I feel awful that this man was possibly abused, nothing he did made me feel he was a good parent or even human being. I'm terrified for this man's kids. His parenting is atrocious. Genuinely the worst documentary I have ever seen. I am shocked by the reviews.
Greg Robinson
½
Kirby Dick brings light to a very serious issue. Overall I think it was a bit narrow and could have featured a wider array of criminals rather than focus on the story of one and his victim.
Johnny Li
I really like that they made a documentary about this, because this is a topic that needs to be talked about. However, the documentary itself didn't really answer any of my questions, was put together in a somewhat disjointed matter, didn't tell any sort of coherent story or create a solid enough atmosphere, and the ending was an abrupt transition away from what they were trying to say at the beginning. Obviously with a documentary you can't craft an ending the way you can in fiction, but it felt like the entire thing was dropped but they pretended it wasn't. Disappointing, because I was fascinated by the subject material.
Hannah Megill
Twist of Faith Quotes
There are no approved quotes yet for this movie.