The Uninvited (4 Inyong shiktak)
(2003)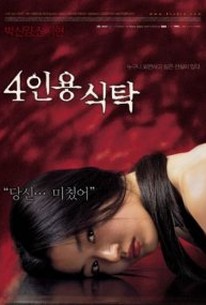 AUDIENCE SCORE
Critic Consensus: No consensus yet.
The Uninvited (4 Inyong shiktak) Photos
Movie Info
Jung-won (Park Shin-yang) falls asleep on the subway one evening. He wakes up to find the train at the end of the line. He bolts off before the doors close, then turns back and sees two little girls still on the train as it pulls off to the railway yard. We learn that Jung-won is an interior designer. His rather controlling fiancée, Hee-eun (Yu Seon), gets a very modern table for his apartment with spotlights over each of the four chairs. The next day, Jung-won learns that the two little girls he spotted were later found dead on the train, apparently poisoned by their mother. Jung-won's dismay only increases when he sees the two girls again, this time slumped over his new kitchen table. Terrified, he begins spending his nights at the home of his father, a pastor at a church. Jung-won goes to see a psychiatrist about renovating his office and runs into one of his patients, Yon (Jeon Ji-hyeon of My Sassy Girl). He feels strangely drawn to the withdrawn young woman. He soon learns that she suffers from narcolepsy, and when she faints in his presence, he takes her to his apartment, where he's shocked to find that Yon can also see the ghosts of the two girls. Yon separated from her husband after the death of their young child, and she is testifying in the trial of the woman responsible for that gruesome death. Jung-won finds himself getting more and more obsessed with Yon, and learns that she has a strange and dangerous power. The Uninvited was the feature debut of writer/director Lee Soo-youn. The film was shown at the 2004 New York Korean Film Festival. ~ Josh Ralske, Rovi
Rating:
NR
Genre:
, ,
Directed By:
On DVD:
Runtime:
Critic Reviews for The Uninvited (4 Inyong shiktak)
There are no critic reviews yet for The Uninvited (4 Inyong shiktak). Keep checking Rotten Tomatoes for updates!
Audience Reviews for The Uninvited (4 Inyong shiktak)
I won't attempt a full review of this scattershot, incoherent movie. Instead, I'll just list some adjectives that describe it. Ponderous. Pretensious. Slow. Flat. Boring. Tedious. Lame. Incomprehensible. Long. Coma-inducing. Talentless. Poorly edited. Poorly acted. Awful. Forgettable. Horrendous. Pointless. Lugubrious. Depressing. Fragmented. Well, I could go on. "The Uninvited" certainly does. It goes on and on and on and on as the cast stare into space and deliver lines in hushed monotones. And the ghosts? Brief scenes involving them at a couple of points in the movie, but mostly it thinks it's about mental illness and isolation. What it's really about is a textbook example of a director who tries to be Ingmar Bergman and winds up looking a lot more like Ed Wood with a hangover. If you want the experience of watching this film, you will need a tortoise, some dental floss, and an olympic-sized swimming pool filled with cold molasses. Give the tortoise some valium. Tie one end of the dental floss to your toe and the other end to the tortoise. Now, jump into the pool and feel the thrill as the tortoise drags you sloooooooooooowly through the cold molasses. Don't bother inviting "The Uninvited" into your home. It will stay too long and bore the hell out of you.
Brian Seitzman
½
"Dazed and Confused" meets "The Shining"....this movie zig zags all over the place..definitely quirky and unpredictable. It moves slower than molasses and has that David Lynch feel to it..as though the camera lens is 'fogged up' in terms of a clear storyline or character motivations. Most in the story seem either dazed or confused; however that has led me to laugh out loud in a few scenes. The actual viewing of the film is a test of endurance....the scenes are drawn out and long, most times with little action and sparse dialogue. I would characterize this more as a distorted drama that oozes strangeness. You, the viewer, get sucked in and involved, curious to see how it will all play out. In the end though, it's perhaps more a fable about the consequences involving yourself with odd people who experience bizarre events. Absence the warm light there is the cold dark. This movie explores lonliness, detachment and mental isolation ..this is indeed a cold, dark movie...just not an entertaining one or a joy to experience.
½
definately strange and it took a lot of takes to get through it all. I must say it's rather confusing about what's real vs. dream but it wasn't as bad as I was expecting... whoever thought up this movie must have really hated babies...
Kat Slof
The Uninvited (4 Inyong shiktak) Quotes
There are no approved quotes yet for this movie.