Jungfrukällan (The Virgin Spring)
(1960)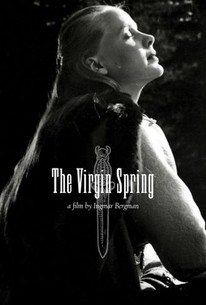 Jungfrukällan (The Virgin Spring) Photos
Movie Info
In this film, 15-year-old Birgitta Peterson is raped and murdered by two older men. Birgitta's father murders the bestial killers in cold blood. When the deed is done, the father begins to question the efficacy of a God that would allow his daughter's death, then permit so bloody a retribution.
News & Interviews for Jungfrukällan (The Virgin Spring)
Critic Reviews for Jungfrukällan (The Virgin Spring)
Audience Reviews for Jungfrukällan (The Virgin Spring)
A virginal girl is brutally raped and murdered, and her killers unwittingly take refuge in her parents' home. Simply stated, this is Bergman at his best. While there is a touch of the misogyny that Bergman featured in The Seventh Seal, as Birgitta and her sister turn into metonyms for light and dark female sexuality rather than fully fleshed out characters, the film nevertheless explore tough questions about the existence of God and humans' duties in response to cruelty and despair. Is revenge ethically, morally, or religiously justifiable? If God exists, why do bad things happen to good people? Should we or can we celebrate a deity in a world this fucked up? Filmmakers like Bergman aren't didactic enough to tell us the answers to these questions; instead, we get round characters who struggle with ethical dilemmas in intelligent and compelling ways. Overall, Ingmar Bergman is rightly celebrated as one of the world's best for good reason.
Jim Hunter
Super Reviewer
easily one of the most devastating films i've ever seen. an all time favorite. the images are penetrating and the film builds tension so well that every moment feels like the precursor to something bigger, and it always turns out to be. the themes of faith and morality take center stage and in the end we are reminded that kindness and innocence in this world are often rewarded with violence, darkness, and suffering. a deeply emotional film.
½
Ingmar Bergman's films are declarations. Declarations of doubt, declarations of fear. Somehow in his confrontation of death, he tries to find the meaning of life. In The Virgin Spring, Bergman revisits medieval times (as in 1957's "The Seventh Seal"). This time, the scene is a fourteenth century farm. Töre is the landowner and patriarch of his little family which includes wife Märeta and daughter Karin. The family, being devoutly christian, have an "adopted" family of farmhands and runaways, as well as one "fallen", heathen woman who is carrying an illegitimate child. It's with her the story begins as she prays for Odin to come and curse the daughter Karin. Karin is the perfect one, always getting her way, not having to do anything and getting spoiled by the masters of the house. So when she and Karin are sent to the church to deliver the candles for the virgin mother's mass, she gets her wish most brutally answered. Watching Töre's penance towards the end of the film, you have to wonder about the level of ritualism and meditation that precedes an act motivated almost entirely by blind retribution. As observers, we can only feel sorrow at this destruction, regardless of what end it seeks to achieve. What can we take away from the Virgin Spring? That God, if he exists, works in mysterious ways? That life is cheap? That one's notion of existence can be swept away in one callous motion? It's not enough to just exist, you have to know why you are doing it. Once upon a time, we built churches to give our lives purpose, and to try and provide some higher understanding of why we were here. With The Virgin Spring, we have a film etched hard into the celluloid, an artistic rendition of the question that plagues our human nature.
Devon Bott
Super Reviewer
Jungfrukällan (The Virgin Spring) Quotes
There are no approved quotes yet for this movie.