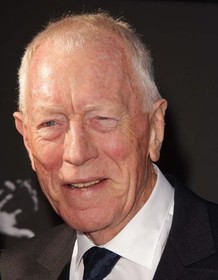 Max von Sydow
Highest Rated: 100% The Magician (1958)
Lowest Rated: 9% Branded (2012)
Birthday: Apr 10, 1929
Birthplace: Lund, Sweden
After his training at Stockholm's Royal Dramatic Theatre School, actor Max von Sydow became recognized as his native Sweden's foremost film star, thanks to his long-running collaboration with acclaimed director Ingmar Bergman. Both von Sydow and Bergman triumphantly emerged onto the international film scene with "The Seventh Seal" (1957), an existential meditation on death that was long after considered to be one of the greatest foreign films ever made. The actor and director continued their collaboration for the next several years, churning out complicated and often surreal films like "The Magician" (1958) and "The Virgin Spring" (1960) that earned international accolades and awards. When von Sydow crossed the Atlantic to appear in Hollywood films, however, he was initially consigned to playing stern, unsympathetic characters. He finally had a breakthrough playing the titular role in "The Exorcist" (1973), playing the immortal Father Merrin in a film that forever cemented von Sydow into cinema history. Following this, he was able to branch out and explore a variety of compelling roles, which culminated in an Academy Award nomination for his performance in "Pelle the Conqueror" (1988), which only confirmed the notion of von Sydow being Sweden's modern-day Laurence Olivier. His career spanned long after that triumph, including films ranging from medical drama "Awakenings" (1990) to science fiction thriller "Minority Report" (2002) to indie character study "The Diving Bell and the Butterfly" (2007). He showed no signs of slowing down even into his 80s, appearing in Martin Scorsese's "Shutter Island" (2010), an episode of "The Simpsons" (Fox 1990- ), and "Star Wars: The Force Awakens" (2015). Max Von Sydow died in his adopted home of Provence, France on March 8, 2020 at the age of 90.
Photos
HAWAII, Julie Andrews, Max von Sydow, 1966.
HAWAII, Max von Sydow, Julie Andrews, 1966
HAWAII, Max von Sydow, 1966
HAWAII, Julie Andrews, Max von Sydow, 1966
QUILLER MEMORANDUM, Senta Berger, George Segal, Max Von Sydow, 1966. TM and Copyright (c) 20th Century Fox Film Corp. All rights reserved.
THE TOUCH, (aka BERORINGEN), Max von Sydow, 1971
UNTIL THE END OF THE WORLD, Max von Sydow, Jeanne Moreau, 1991. (c) Warner Bros..
THE TOUCH, (aka BERORINGEN), from left, Max von Sydow, Bibi Andersson, 1971
THREE DAYS OF THE CONDOR, Max von Sydow, 1975.
THE EXORCIST, Lee J. Cobb, Max Von Sydow, 1973. (c) Warner Bros..
THE GREATEST STORY EVER TOLD, Max von Sydow, 1965
MARCH OR DIE, Max Von Sydow, 1977
THE GREATEST STORY EVER TOLD, Max von Sydow, 1965
HAWAII, Julie Andrews, Max Von Sydow, 1966
HAWAII, Max von Sydow, Gene Hackman (in background), Julie Andrews, Jocelyne LaGarde, 1966
THE REWARD, Max von Sydow, 1965, (c) 20th Century Fox. TM & Copyright
THE NIGHT VISITOR, (aka PAPEGOJAN), Max Von Sydow, 1971
THE MAGICIAN, (aka ANSIKTET), from left: Bengt Ekerot, Max Von Sydow, 1958
THE QUILLER MEMORANDUM, Max von Sydow (left), George Segal (in chair), 1966. TM & Copyright ©20th Century Fox
EXTREMELY LOUD AND INCREDIBLY CLOSE, from left: Max von Sydow, Thomas Horn, 2011. ph: David Lee/©Paramount Pictures