Hamsun
(1996)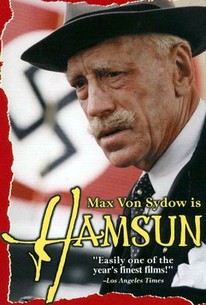 Movie Info
This powerful Scandinavian biopic chronicles the fall of one of Norway's most respected authors, Knut Hamsun (played by Max von Sydow in one of his most acclaimed performances) who up until WWII was considered one of the greatest Norwegians of the 20th century. At the dawn of the war, the Nobel Prize winning author shocked his countrymen by publicly siding with the Nazis. His wife Marie took it a step further and went to Germany to give lectures. Following the war, both were convicted and branded as traitors. Hamsun attempts to answer the questions surrounding the author and his wife's treachery. By the time the war erupted, Hamsun was an elderly curmudgeon who could barely hear. A profoundly lonely man with hatred of British Imperialism, he was an easy target for Nazi propaganda. His wife Marie, who in Norway is still more vilified than her husband, also had her reasons to support the German party, but while though-provoking, they don't invite much sympathy.
Critic Reviews for Hamsun
Audience Reviews for Hamsun
Quisling(n) - a traitor who aids an occupying force In 1936, Nobel Laureate Knut Hamsun(Max von Sydow) and his wife of thirty years, Marie(Ghita Norby), have a massive row that lays bare the anger that has always existed just beneath the surface, especially as it involves their sending away the kids to boarding school so he can write and his not writing. In the meantime, Marie goes to hear a not-so-crowded lecture by National Socialist Vidkun Quisling(Sverre Anker Ousdal). So, when Marie and Knut reunite, they have something to talk about. Aided by an excellent performance by Max von Sydow in the title role, "Hamsun" would have worked much better as an intimate drama, instead of going for epic stature which only serves to muddle the details of this potentially interesting story with marginally relevant family details. Overall, this is the life of a writer considered a national treasure in his home country of Norway who also acted against its national interests during World War II. In fact, Hamsun did try to use his position to do some good, but as a right wing anti-communist monarchist not having read the big print had no real idea who he was dealing with in the Nazis. It is also possible that he believed their propaganda just as the Nazis used him for propaganda purposes with the cameras going non-stop. All of which just goes to prove you cannot tell everything about an artist from their creative work.
Hamsun Quotes
There are no approved quotes yet for this movie.