The Seventh Seal (Det Sjunde inseglet)
(1957)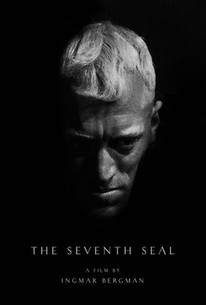 TOMATOMETER
AUDIENCE SCORE
Critic Consensus: Narratively bold and visually striking, The Seventh Seal brought Ingmar Bergman to the world stage -- and remains every bit as compelling today.
The Seventh Seal (Det Sjunde inseglet) Photos
Movie Info
In medieval Sweden, a knight returns from war only to find a ravaged homeland. He meets up with a group of travelling players and eventually confronts the embodiment of death with whom he engages in a game of chess.
News & Interviews for The Seventh Seal (Det Sjunde inseglet)
Critic Reviews for The Seventh Seal (Det Sjunde inseglet)
Audience Reviews for The Seventh Seal (Det Sjunde inseglet)
Masterful picture directed by Ingmar Berman, The Seventh Seal explores themes in such a way that it makes you reflect. With striking images, incredible acting, The Seventh Seal is an accomplished work of drama, a film that resonates as one of the finest in the genre. Ingmar Bergman is a phenomenal director, and he uses the simplest of ideas to make a film. With this picture we get that and the subject he tackles is one that captivates the viewer and raises questions as well. That's the best type of film, a film that can make a viewer think about the film's message, and with the Seventh Seal we have a film that explores an idea, and evokes questions. Not only that, it tells a profound story, one that challenges views on death. Brilliantly constructed by Bergman, the film manages to be a stunning piece of cinema that can resonate with the viewer. I've seen my fair share of foreign films, and I would say that The Seventh Seal is a fine accomplishment in film, and Ingmar Bergman manages to create something captivating due to its subject. If you enjoy thoughtful films, then The Seventh Seal is a picture not to be missed. The film is steadily paced, and it works well due to its acting, story and direction, and Bergman is able to make something grand with the basic aspects of filmmaking techniques. I thoroughly enjoyed the film, and if you enjoy a though provoking drama, The Seventh Seal works well, and is an engaging picture from start to finish. I thought that this film was wonderful, and is a definite classic of cinema.
For its time, Ingmar Bergman's iconic "The Seventh Seal" was revolutionary for its blatancy in showing the absence of God but the presence of Death. Much of what comprises this film; is not what those who know of it would attribute to it, visually speaking. Most people can only think about the visual of a knight on a beach, just back from the Crusades, the ocean suddenly silenced when a dark figure reveals himself on the horizon. It is Death, cloaked all in black, his white washed face standing out against the backdrop of pure nature. They play a game of chess for the knight's life, and so the film begins. Past that most people don't know much about this film. For one thing, there is very little chess featured in this film. For another, the knight has a comrade who he travels with. They go through the countryside, where the Plague has laid siege to all peoples. Everyone has become mad and frightened at the prospect of death, and belies religion's influence for some help in the matter of their mortality. A large amount of people believe in the religious fervor that is sweeping the countryside, and lend themselves to self-abuse, crucifixions, and murder. Others try to steal from the dead and help themselves through the devastation of the illness. Everyone seems to be trying to find answers to why there is war, poverty, and illness when God is supposed to protect them from their woes. A girl is captured and confesses to consorting with the Devil, which she says brought about the plague. She is only an innocent, content in turning from her God because of his absence, but not really a conspirer with evil. The film encourages exploration and takes a step back from theology by showing the very evils it inflicted in the past. Still, there is a call for people to also keep their faith in the face of Death, even while he's playing chess across from you. There's also a young couple who are very friendly and giving, and their fates are sealed thanks to their faith and love for one another. Bergman may not have known the infinitesimal questions that come from exploring your own doubt and frustrations with life. Though Bergman continually questioned himself in his later films, there is never an answer, only the freedom to question at all. Bergman went on to make films that were much subtler and less apt to rest itself on thoughtful images, but this was the start of his career and the first instant of his genius. If anything it should be commended for its innovation to film and the questions it raises.
Spencer S.
Super Reviewer
½
One cannot deny the unsettling and polarizing power of this Ingmar Bergman classic. The haunting visuals alone are enough to send chills through one's spine, not to mention the weighty subject matter. The stoic knight's chess match with death will surely be the most memorable sequence in the film, closely followed by the anti-climactic, macabre ending shot. I had no qualms with the movie's heavy religious discussion, as one can easily identify with Mr. Bergman's spiritual disillusionment. Structurally, however, I was disappointed. I felt that "The Seventh Seal" plodded along without much aim, the uncompromising subject matter weighing it down even further. Some of the acting was rather shoddy, and the film never reached any sort of satisfying resolution (which was obviously the point, but I digress).
Kristijonas Fussman
Super Reviewer
The Seventh Seal (Det Sjunde inseglet) Quotes
| | |
| --- | --- |
| The Knight Antonius Block: | Is it so terribly inconceivable to comprehend God with one's senses? Why does he hide in a cloud of half-promises and unseen miracles? How can we believe in the faithful when we lack faith? What will happen to us who want to believe, but can not? What about those who neither want to nor can believe? Why can't I kill God in me? Why does He live on in me in a humiliating way - despite my wanting to evict Him from my heart? Why is He, despite all, a mocking reality I can't be rid of? |
| | |
| --- | --- |
| Death: | You won't get off that EASY. |
| | |
| --- | --- |
| The Knight Antonius Block: | I want knowledge! Not faith, not assumptions, but knowledge. I want God to stretch out His hand, uncover His face and speak to me. |
| Death: | But He remains silent. |
| The Knight Antonius Block: | I call out to Him in the darkness. But it's as if no one was there. |
| The Knight Antonius Block: | Perhaps there isn't anyone. |