Waqt: The Race Against Time
(2005)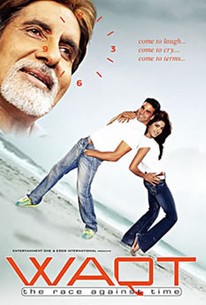 AUDIENCE SCORE
Critic Consensus: No consensus yet.
Movie Info
Ishwar and Sumi both adore their only son, Aditya but with a difference. While Ishwar is totally blind to Adi's faults and indulges him, Sumi is well aware of his darling son's shortcomings and is always cautioning her husband not to spoil Adi so much. Adi on his part has only one obsession -- to become a star and is not interested in joining his father's successful toy business. Everything is going smoothly for Adi Pooja is going to have a baby everybody is excited and happy Adi is busy training for his contest when suddenly catastrophe strikes. Adi is thrown out of his luxurious house and forced to stay in a shabby outhouse. Adi is puzzled and consoles himself that his father is playing some kind of a cruel joke. But his hurt turns to fury when he realizes that Ishwar and Sumi have no intention of relenting. Their doors are shut they don't give a damn what happens to him. Adi is desperate, there is no food to eat, no electricity just bare walls and bare floors and a pregnant and hungry Pooja.
Critic Reviews for Waqt: The Race Against Time
All Critics (1) | Fresh (1) | Rotten (0)
A Bachchan movie through and through, he slaughters Akshay in their scenes together - chewing him up and spitting him out without remorse.
Audience Reviews for Waqt: The Race Against Time
Ishwarchand Thakur has always indulged his only son, Aditya, in almost everything he's ever asked for even if that meant disappointing his wife, Sumitra. Sumitra believes that allowing Adi to do whatever he wants, and whenever he wants, would only further enable acts of irresponsibility and immaturity. Adi believes that his father and mother will continue to provide for him in any means necessary. With his young bride in tow, Adi does not wish to carry on with the family business. A sudden illness overcomes Ishwar, and he begins to realize that his son will not change. With a small amount of time left, Ishwar and Sumi decide to initiate the changes within their son so he can assume some adult responsibilities. As he becomes more accountable for his actions, he slowly begins to realize why his parents did what they had to. Amitabh Bachchan, Akshay Kumar, Priyanka Chopra, Boman Irani, Rajpal Yadav, and Shefali Shah stars. Worthy!
Waqt: The Race Against Time Quotes
There are no approved quotes yet for this movie.