Mr. Saturday Knight
EPISODE: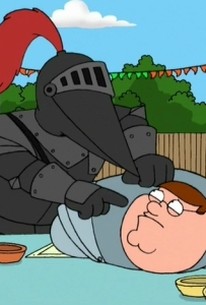 Episode Info
After a Career Day visit to Chris' (voice of Seth Green) junior high school class, Peter (voice of Seth MacFarlane) feels that his job at the toy factory is going nowhere. Lois (voice of Alex Borstein) suggests he invite his boss, Mr. Weed (voice of Carlos Alazraqui), over to dinner to impress him. Peter goes along, despite unpleasant memories of Margot Kidder's (voice of Rachael MacFarlane) dinner visit. That night, the kids do a number from The Sound of Music and dance off to bed. Peter has trouble with small talk. "I don't care what the guys at work say," he tells his boss. "I don't think you're an effeminate weirdo." But Mr. Weed is so impressed with Lois that he offers Peter a promotion before choking to death on a dinner roll. During his eulogy, Peter mistakes Jesus for The Incredible Hulk. After the funeral, Mr. Weed's video will is played, and it turns out he's arranged to have the toy factory demolished. After Peter unsuccessfully tries working as a washroom attendant, a deaf guy who hands out cards asking for donations, and a transvestite streetwalker, Lois tells him she has some money saved, so he can pursue his dream job. So Peter sets out to become a Renaissance Fair jouster, just like the Black Knight (voice of Will Ferrell) who saved his life when he was an acid-tripping teen. Peter trains with a tough drill sergeant-type coach (voice of R. Lee Ermey) but is disenchanted when he learns that the Black Knight is actually a jerk who drives a yellow Hyundai. Things get more ugly when the Black Knight catches his girlfriend flirting with Peter. This episode also features the voice talents of Jimmy Kimmel, Adam Carolla, and Charles Durning.
Mr. Saturday Knight Photos
Discussion Forum
Discuss Family Guy on our TV talk forum!