Parks and Recreation: Season 1
(2009)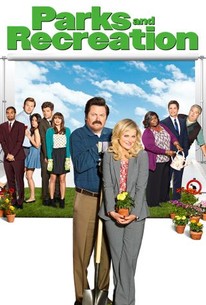 Rate And Review
Parks and Recreation: Season 1 Photos
Tv Season Info
This hilarious and warmhearted mockumentary series focuses on the parks-department employees at the fictional Indiana town of Pawnee. While the department's workaholic deputy director, Leslie Knope (Amy Poehler), fervently believes in the government's capacity to do good, her resolve is tested by a modest project that requires her to fight through endless layers of bureaucracy and red tape: filling in an abandoned construction pit and turning it into a new park. Her allies in this cause include nurse Ann Perkins (Rashida Jones), whose slacker boyfriend Andy Dwyer (Chris Pratt) broke both of his legs after falling into the pit; totally apathetic intern April Ludgate (Aubrey Plaza); coworker Tom Haverford (Aziz Ansari), who spends most of his day dreaming up get-rich-quick schemes; city planner and ladies' man Mark Brendanawicz (Paul Schneider); and staunchly libertarian parks director Ron Swanson (Nick Offerman), who believes the government has no business trying to improve anything.
News & Interviews for Parks and Recreation: Season 1
Audience Reviews for Parks and Recreation: Season 1
The show gets going at a fast pace here, but it's not quite at it's full potential here.

It's very funny but their was a weak link and they fixed it with a new approach

It's a rough start to the series but it's still good.

Meh. Too woody and pithy, lacking proper character development and real comedy value to the script. Not a complete faceplant, however

What is not to love about season 1 of one of the best comedies in the last 30 years?

It may not be as funny as the other seasons but still the best series that exists

It might be the worst season of the series , it shows the series' potential.

Look, it might not be as good as the other seasons, but I stand by my opinion that this show is a masterpiece. Thus, it deserves five stars. Can't be a masterpiece without the maximum rating, now can it?

I can't believe how poorly reviewed the first season was. It deserves all five stars. Amy truly is amazing.

Far, far better than the office. So kind and funny and charming. Absolutely phenomenal. Amy Poehler is excellent.