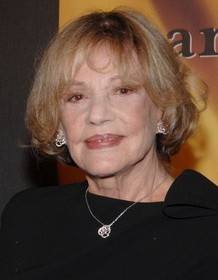 Jeanne Moreau
Highest Rated: 100% Grisbi (1954)
Lowest Rated: 20% The Victors (1963)
Birthday: Jan 23, 1928
Birthplace: Paris, France
Jeanne Moreau was the sort of talent that could generate hyperbolic labels like "the world's greatest actress," which was how no less an authority than Orson Welles described her. For a half-century, Moreau constantly set the bar for screen performances with her fearless, deeply emotive and passionate turns in such bona fide classics as "Elevator to the Gallows" (1958), "Jules and Jim" (1960), "The Trial" (1961), "Diary of a Chambermaid" (1964), "The Bride Wore Black" (1968), "Querelle" (1982) and countless others. The list of legendary directors who queued up to add her earthy sensuality and versatility to their films included figures like Welles, François Truffaut, Louis Malle, Rainer Werner Fassbinder, Wim Wenders, Luc Besson and Tony Richardson. But despite the quality of her performances, Moreau was largely unknown to mass audiences, especially in America, where she was generally regarded as an art house figure. More mainstream moviegoers knew her as Cinderella's great-granddaughter in "Ever After" (1998) than for "Jules and Jim." If the anonymity bothered Moreau, it never showed; she simply continued to give life-affirming performances well into her eighties while dabbling in work behind the camera on several occasions. Moreau was one of the few actresses whose work remained consistently top-notch for the entirety of her career, with bit parts and cameos as well-crafted as her leading roles. In doing so, she cemented her status as one of the cinema's greatest actors. Her death at the age of 89 on July 31, 2017 brought forth international mourning, with French President Emmanuel Macron eulogizing her as a powerful figure who "always rebelled against the established order."
Photos
VIVA MARIA!, Brigitte Bardot, Jeanne Moreau, 1965
MADEMOISELLE, Jeanne Moreau, 1966
VIVA MARIA, Jeanne Moreau, 1965
VIVA MARIA!, Jeanne Moreau, 1965
ONE DAY YOU'LL UNDERSTAND, (aka PLUS TARD, aka LATER), from left: Hippolyte Girardot, Jeanne Moreau, 2008. ©Kino International
CET AMOUR-LA, Jeanne Moreau, 2001
THE SAILOR FROM GIBRALTAR, Orson Welles, Jeanne Moreau, 1967
THE SAILOR FROM GIBRALTAR, Jeanne Moreau, 1967
QUERELLE, Jeanne Moreau, 1982, (c)Triumph Releasing
THE TRAIN, Jeanne Moreau, Burt Lancaster, 1964.
THE DIARY OF A CHAMBERMAID, Jeanne Moreau, 1964
GREAT CATHERINE, Jeanne Moreau, 1968
THE DIARY OF A CHAMBERMAID, Jeanne Moreau, 1964
VIVA MARIA!, Jeanne Moreau, Brigitte Bardot, 1965
GREAT CATHERINE, Jeanne Moreau, Peter O'Toole, 1968
THE DIARY OF A CHAMBERMAID, Jeanne Moreau, 1964
THE DIARY OF A CHAMBERMAID, Jeanne Moreau, Georges Geret, 1964
THE DIARY OF A CHAMBERMAID, Georges Geret, Jeanne Moreau, 1964
THE DIARY OF A CHAMBERMAID, Daniel Ivernel, Jeanne Moreau, 1964
GREAT CATHERINE, Jeanne Moreau, 1968