Hotel Terminus: The Life and Times of Klaus Barbie
(1988)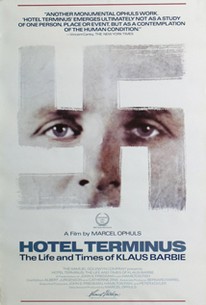 Hotel Terminus: The Life and Times of Klaus Barbie Photos
Movie Info
This typically long (267 minutes!) and very thorough Marcel Ophüls documentary traces the life--both as Nazi official and fugitive from justice--of accused war criminal Klaus Barbie. Produced in Paris, the film for the most part, avoids the standard shots of Nazi atrocities in favor of a murder-mystery approach. Ophüls himself appears as a sort of detective, ferreting out information about Barbie from associates, officials and victims. The director has noted that he was deliberately patterning the film after the popular American TV series Columbo; he even wears a battered raincoat in some scenes. Hotel Terminus: The Life & Times of Klaus Barbie won a 1988 Academy Award for best documentary.
Critic Reviews for Hotel Terminus: The Life and Times of Klaus Barbie
Audience Reviews for Hotel Terminus: The Life and Times of Klaus Barbie
A French documentarian copiously researches the life and death and career of Klaus Barbie. Most narratives about World War II and the Nazi regime are whittled down to rather simple documentaries of Nazi atrocities and good finally prevailing over evil. But Hotel Terminus, at an excruciatingly thorough four and a half hours, does not boil anything down. It's difficult to understand the documentarians' point, and I think the film would've been improved with a voice-over that allows us to understand how each piece of testimony fits in with the larger picture, but what I gather from the film is that the aftermath of WWII is more complicated that a mere triumph of good over evil. In fact, when it comes out that the CIA had dealings with Klaus Barbie, it seems that the film reveals that sorting out the good guys from the bad guys from the useful guys from the ugly guys is more complicated than one might expect. Not everyone wearing a swastika was evil, and not every evil person wore a swastika. I think that's the film's thesis, but I can't be sure. Overall, after watching a five-hour documentary on Nazis, I don't know if I can handle The Sorrow and the Pity, which is coming up ...
Jim Hunter
Super Reviewer
Hotel Terminus: The Life and Times of Klaus Barbie Quotes
There are no approved quotes yet for this movie.